Angela Daniel
When I was a little girl, anytime my mom or grandmother bought me a new Bible they would write Proverbs 3:5-6 inside the cover.
"Trust in the Lord with all your heart and lean not on your own understanding. In all your ways acknowledge Him and He will direct your paths."
Something about the simple act of seeing that verse in their own handwriting made that verse even more important to me throughout my life. I consider it my life verse and anytime I am at a crossroads, hard place, or just in the midst of something I don't understand at all, the Lord brings it to my mind and it gives me peace. I can easily look back and see how He has proved faithful over and over.
Last week, right here at Cornerstone, I had the sweetest reminder of this. It was the morning of our April Information meeting and Mrs. Freiler came into my office and said, "Pat Davis is here for the information meeting and would like to see you." I practically shouted, "PAT DAVIS!" and ran out of my office to see her and give her a hug!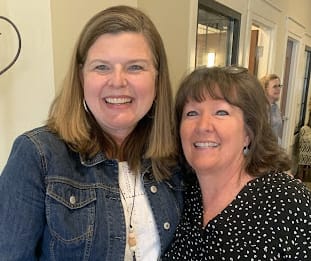 You see, when I did my student teaching over 20 years ago, I was placed in her first grade classroom at Vaughan Elementary in West Cobb. I ended up getting a job right when I graduated and taught first grade next door to Pat for 5 years. During that time, she became my mentor and her love of Jesus, her students, and just excellence as a teacher impacted me in countless ways. She was also there supporting me through our infertility and journey to bring our first child, Laney, home from China. She's one special lady!
I haven't seen her in many, many years so it was the sweetest surprise to see her, her daughter, and grandson at our information meeting. It was a privilege to talk with them about Cornerstone and how the Lord led me here 7 years ago.
I share this with you as a reminder that when we ask the Lord to guide and direct our lives we can trust that He will do just that. He has done this over and over in my life and Mrs. Davis is just one beautiful example of that. My prayer is that our students learn this from a young age and see this modeled in the lives of their teachers and classmates.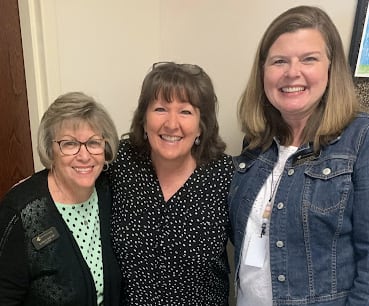 Also, our own Mrs. Serviss taught with Mrs. Davis and I all those years ago. My first grade class and her 3rd grade class were book buddies! I love that I still get to work with her!
Who has the Lord brought into your life to mentor you over the years? You may not be able to give them a hug, like I could, but I encourage you to take the time today to send them some encouragement and let them know how God has used them in your life.
"Therefore encourage one another and build each other up, just as in fact you are doing."
1 Thessalonians 5:11