Janie Niswonger
On August 5, my husband and I celebrated our 25th wedding anniversary. It was no coincidence that I read Philippians 2:1-11 in my quiet time that day. It is a passage that grabbed a hold of my heart a few years into our marriage and changed the way I relate to Mark.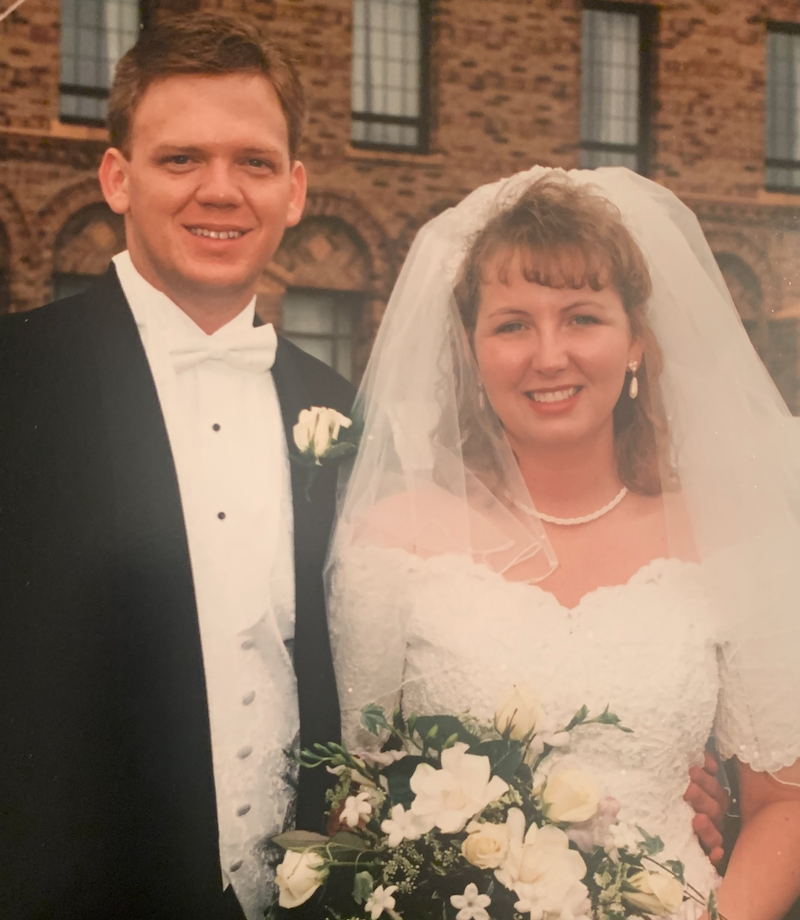 As I read this passage last week I was reminded of our first fight as a married couple. I don't remember what it was about, but I remember being pretty mad and walking across the living floor of our little apartment to the sliding glass doors that led outside and hearing Mark say behind me, "Honey, don't walk out there. Stay and talk this out."
Well, like a child, I kept my back to him, slid open that wide glass door, and slipped one foot over the threshold in defiance and then the other. I stood there rigid and unyielding with my arms crossed. No one was going to tell me what to do!
I am so thankful Mark was patient and gracious with me as I learned to live with someone else's interests in mind, not just my own. I credit God's work through Philippians 2 and the example of Christ in this passage for doing that. This is the passage I want to share with you.
The Apostle Paul starts out by telling the church that we all have Christ in common. We may not be able to agree on everything else, but we can agree on one thing - We all love Jesus and want to live for Him. That is the starting point in how we relate to one another as Christians.
Paul said to the church at Philippi, "Since we all have Christ in common, then make my joy complete by setting your minds in the same direction and having the same selfless, generous love for one another that brings unity.
Do nothing out of selfish ambition or out of an excessively high opinion of yourself. Rather, in humility, value others above yourselves, not looking to what benefits you, but each of you to what benefits the other."

In a Christian community, I look out for what is best for you and you look out for what is best for me. And, in that way, we are all taken care of.
Paul points out that if we need an example of how to do this, all we have to do is look at Jesus. He in his very nature was God. Jesus IS God. But he did not consider his God-status as something to be used to his own advantage. He could have hopped down off of the cross. He could have silenced the mocking and halted the beatings. He could have said to the Father and the Holy Spirit, "Listen, I'm God too! I am not going to suffer and die!" But, he was looking out for what was best for you and for me.
Verses 7-8 say, "He made himself nothing, by taking the very nature of a servant, being made in human likeness. And being found in appearance as a man, he humbled himself by becoming obedient to death—even death on a cross, which was the most humiliating kind of death!"
When I read this passage almost 25 years ago, it pierced my heart. If Jesus, who is God, could humble himself to go to the cross for me and pay for my sins, then I can humble myself and look out for the best interest of my husband, my kids, my friends, my coworkers, and my students.
Philippians 2:9-11 says, "Therefore, because of this, God exalted Jesus to the highest place and gave him the name that is above every name, that at the name of Jesus every knee should bow, in heaven and on earth and under the earth, and every tongue acknowledge that Jesus Christ is Lord, to the glory of God the Father."
Look at the unity in the Godhead. Jesus humbled himself to die on the cross, so the Father gives him the name that is greater than any other name, and the whole world is going to bow down to Him. In turn, Jesus is going to take that honor and glorify the Father. Even in the trinity, they are lifting one another up, putting one ahead of the other.
Paul started out this passage by saying we all have our love of Christ in common, so let's set our minds in the same direction, which is to honor God by doing what is best for one another.
As we start the school year, there are four things we can do for one another:
Respect one another's personal boundaries.
Respect one another's right to have a different viewpoint.
Encourage one another's good health.
Honor the covenant we share.
I invite you to read the ways I applied this to the students in our Gathering on Monday. My challenge to all of us this year is this: Let's look out for one another's interests. I will consider what is best for you and you consider what is best for me and those around you. If we do that, we will honor Jesus, the one excellent and praiseworthy thing all of us have in common.