Connecting While Socially Distant
How many of you have seen the videos and pictures online of kids and adults talking and "hanging out" with their senior family members and friends? Aren't they the best...and a little sad!
My Aunt Teresa works at a home for the elderly and has been posting pictures of residents holding white boards with notes to their family. How sweet is that! I've seen one video of a young girl showing her grandpa her engagement ring through the window. Another one I've seen is of a man and his dad enjoying a moment together lounging back, one on either side of a window. And another, one of the harder ones to digest, was an elderly man "visiting" his wife, who had memory issues, through a window. You've seen these, right? Which ones are your favorites, made you laugh, or made you cry?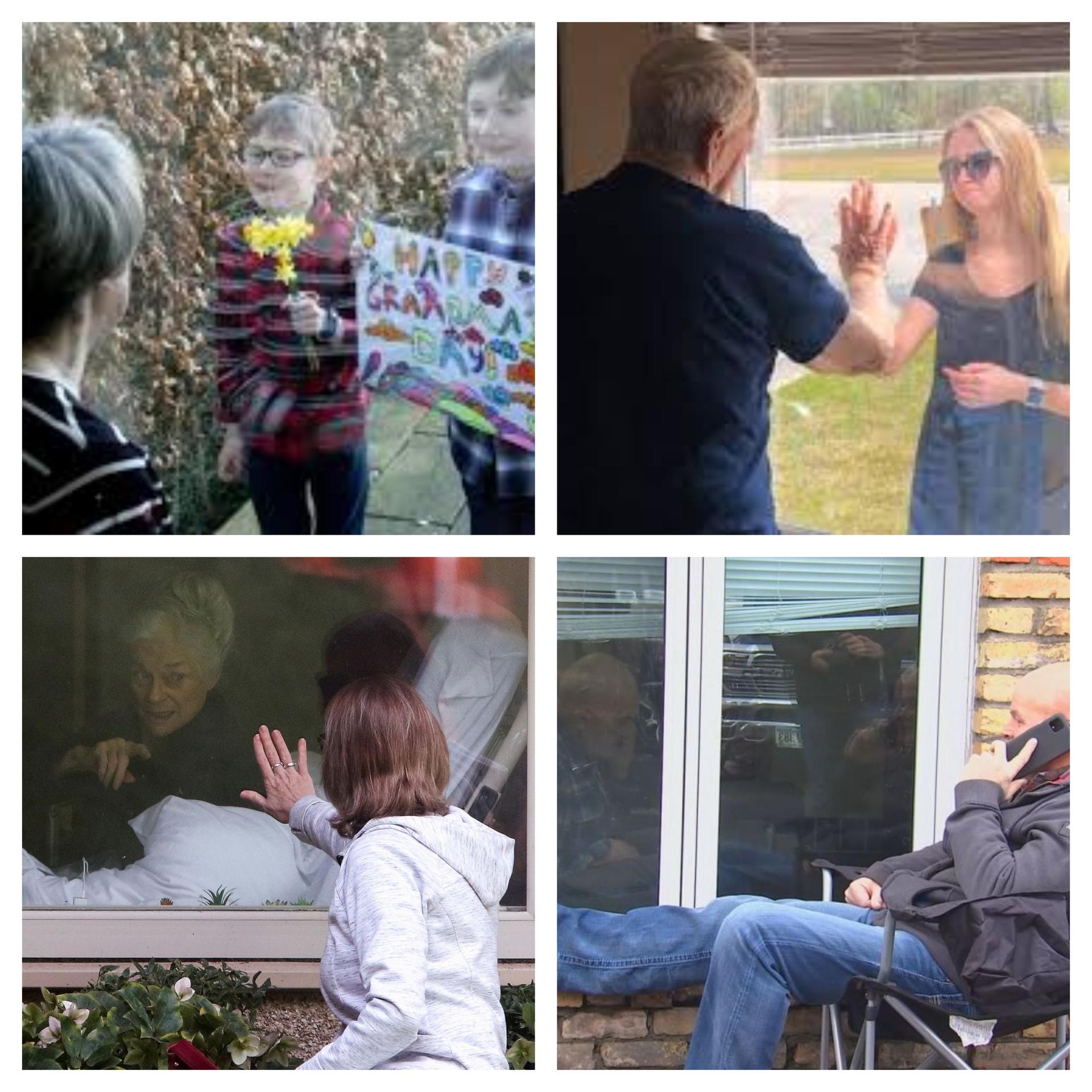 Yesterday, my family had the opportunity to experience one of these moments. Some older, NOT OLD...just older-than-us, friends of ours needed a loaf of bread. To my family they are Mrs. Donna and Uncle Jesse! (My kids love "Full House" so that name came about organically!)
Uncle Jesse has had a few health setbacks lately so it was our great privilege to go by their house and drop off a loaf of bread. As we headed to their house, all the videos and pictures I have seen on social media started rushing through my head, and I quickly became excited to "visit" with our friends through their glass storm door.
When we pulled up, I told the kids that they could come to the door but couldn't go in and couldn't hug on Mrs. Donna and Uncle Jesse. As we approached the door, we noticed bags on the front step. Mrs. Donna and Uncle Jesse came to the door to thank us and let us know that each kid had a bag...a gift for each one!
We talked for a minute and told each other our "I Love You's" and eventually we left. As we pulled away, I couldn't help but think how special those few minutes were. We have known these people for 11 years, yet these few moments, separated by a glass door, hard to hear, unable to embrace, was a highlight!
It was such a special moment because it proved how important relationships are and how vital they are for a meaningful life. Deep down, of course, I knew this was true, but it's so easy to take people for granted in the busyness of our fast-paced life. As I look back over the people who God has placed in my life, I'm thankful for each connection.
How about you? Think back from your earliest memories and ponder upon all the people who have impacted your life: maybe grandparents, aunts and uncles, family friends, childhood friendships...of course the list goes on and on. Maybe there is someone at your church who has always invested in you or a co-worker or a neighbor or a teacher at your school.
Spend some time today thinking about the people the Lord has meticulously directed through your life and the lessons you've learned from them. Maybe you've never thought about the value they brought into your life, and it's time to recognize the blessing they brought and the lessons you were intended to learn.
The Lord loves a strong community and purposefully places us in the path of others. Scripture encourages the gathering together of people. That's why I love how churches across America have found a new way to connect during these crazy times of social distancing.
Connections are still made possible through live streaming services and video chat small groups. The small group we are in met last Thursday night, and it was great! We got to see our friends, study God's Word, share prayer requests, and laugh together...ok, we laughed a lot! Community is important, even during quarantine, because we need people.
Even Jesus had 12 buddies that He spent a lot of time with! We need people in our lives who love us, and we need to be the people in other's lives who love them! We need friends...we all need Mrs. Donna's and Uncle Jesse's!
Just as others have an impact on your life, you have an impact on their life! It's easy to be anti-social right now, but don't forget you still have a family that needs to hear from you. You still have friends that need to talk. You may still have grandparents, family members, or friends that need to see your face...through a glass window or door! Reach out now more than ever, just find a new way.
Maybe you aren't a phone talker, so maybe try video chat. Maybe you don't like social media, but maybe it's time to try it out to stay connected. Maybe you don't know anyone at the nursing home down the street, who cares, make some signs that say, "God Loves You" and walk in front of their windows! Students, maybe you can do a cheer routine, or let them watch you paint a picture, or show off your latest breakdancing moves (ok, I had to)! Remember, that building you go to on Sundays isn't the church...you are! Don't let another day go by without realizing the treasure people are and the treasure God has placed in you!
Hebrews 10:24-25, "And let us consider how to stir up one another to love and good works, not neglecting to meet together, as is the habit of some, but encouraging one another, and all the more as you see the Day drawing near. "