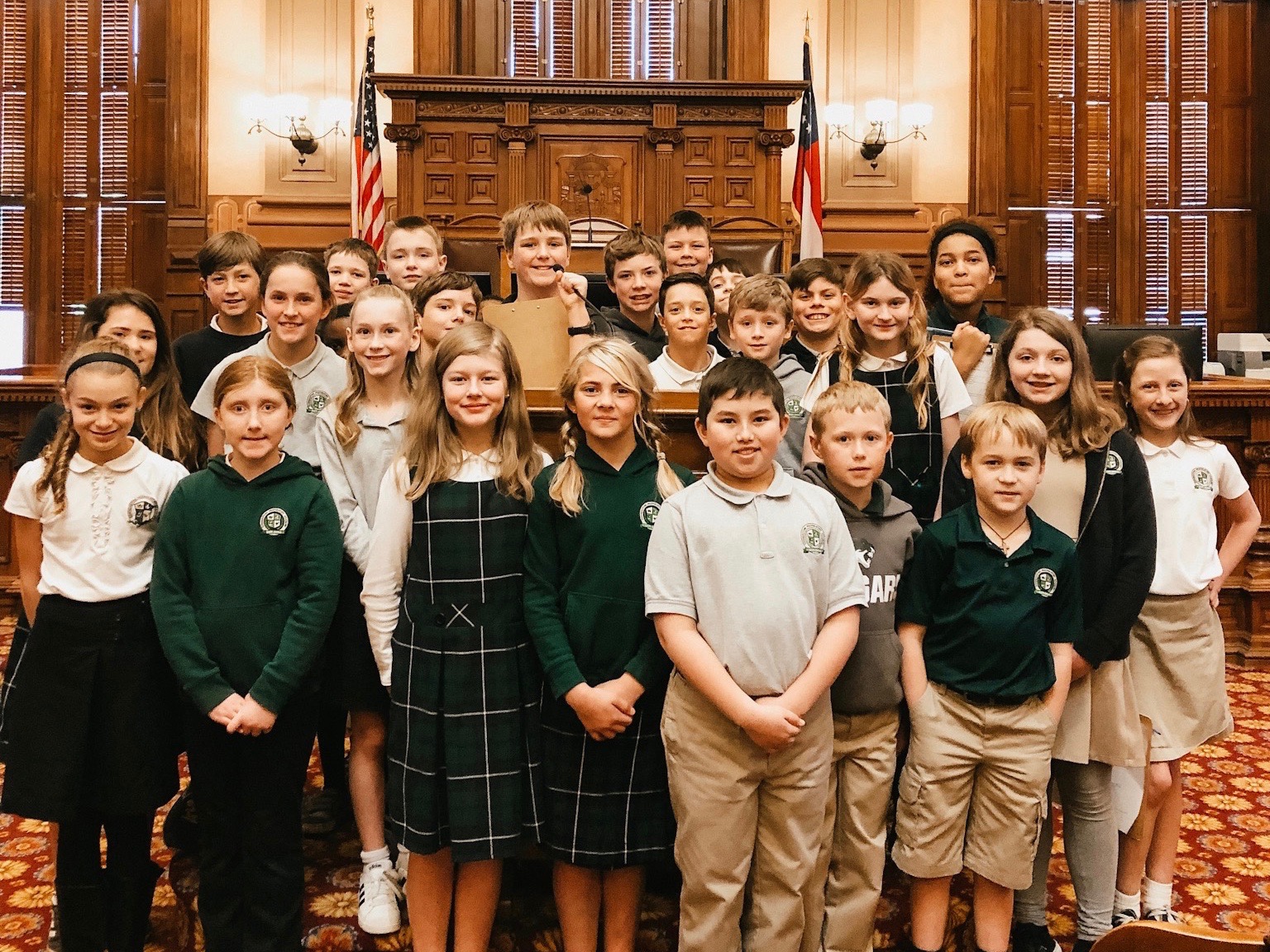 Learning Beyond the Classroom Walls
Learning educational facts in the classroom is important, but experiencing education outside of the classroom is key to students truly understanding and living out what they are learning.
Students in our fifth- and sixth-grade classes had their classrooms brought to life recently during their field trips to the Georgia state capitol building and the University of Tennessee Chattanooga Challenger STEM Learning Center. 
Fifth-graders learned the process of how a bill becomes a law, took a tour of the capitol with Rep. Ed Setzler, and went on a scavenger hunt at the Carter museum. Sixth-graders participated in a mission to Mars simulation and competed in a rocket launching competition. 
Click below to read more about their trips and see photos.
Thank you for your donations to help make 10,000 lunches for Rise Against Hunger.
You raised $1,598.11 of our $3,000 goal
If you would still like to make a donation, it's not too late to submit donations at the front desk or online, type "CC" in notes or money will go to Teacher Appreciation Week.
Elementary Field Day Checklist:
Students

Will get wet (bring a towel if you wish)
Please wear appropriate shoes, no flipflops for field games
Wear chapel shirt and modest shorts
Bring a water bottle and sunscreen

Drop off is 8:45 to 8:55 a.m. at the field

Students will go to their third-period teacher waiting on the field
Parents are welcome to stay and watch

Pick up is 12 p.m. at the field

Parents will need to park and walk to the field to pick up their students

No lunch on Field Day; no hot lunch provided the week of Field Day
Kona Ice will be provided for students and staff at the end of the event
Would you like to help? Volunteer Here

Bad Weather?
Rain Date is Thu, May 2
Parents will be notified via email and ParentAlert by 3 p.m. on Mon, Apr 29, if Field Day is postponed due to weather.
If a rain date is necessary, Tue, Apr 30, will be a regular full day schedule, and students will need to pack a lunch.
Don't miss out! A lot is happening on campus on Fri, Apr 26.
Spring Athlete Breakfast
7:40 a.m. | Den
Spring athletes wear their team shirt and blue jeans
HS Gathering for Senior Legacy Project Presentations | 9:20 a.m.
HS students wear Gathering shirt and blue jeans
HS students will remain in their 2nd-period class for presentations
Seniors will dress as they would for presentation night
MS Team Challenge | 10:10 a.m.
MS students wear Gathering shirt and blue jeans
Spirit Rally & Powder Puff - Rain or Shine
Spirit Rally is 4 to 4:15 p.m. on the field
Powder Puff (girls play the game, boys cheer) is 4:15 to 6:30 p.m.

Parents invited to attend
Hot dogs, chips, and cookies provided
Kona Ice will be available for $1
Players and cheerleaders change into their team colors after school
Students bring a refillable water bottle
Remember, this isn't last semester's schedule!
MS tests will be 1 hour, not 1.5 hours, with a review day on Monday
HS will now test M/W/F
Don't Forget:
No study hall is provided on exam days.
Students should only be at school during their exams.
Exam rooms will be announced upon arrival.
No lunches, only an allotted snack time during exam days
Spring Final Exam Schedule 2019
Exemptions for High School Students:
This year's officers took the Beta Club to a new level, including amending the Constitution to add officers to the growing club for those who have earned at least a 3.75 GPA, have good character, and are willing to put in several hours of community service each school year.
New officers for the 2019-20 school year:
President: Gray Walters
VP: Elijah Cundiff
Secretary: Symone Gaskin
Recordkeeper: Brennan Pritchard
Hospitality Coordinator: Adam Whitney
Publicity Director: Ashley Scott
2018-19 Officers:
Pres. Danny Kotula
VP: Hannah Baines
Secretary: Caroline Cotra
Treasurer: Lillian Cook
Join us tomorrow, Apr 25, at LakePoint at 5:30 p.m. as we celebrate our seniors:
Scott Everill
Josiah Norris
JT Snyder
Stay for the game versus Cherokee Christian at 6 p.m.!
Our boys' tennis team played well and were state runners up on April 17 in Rome at the GICAA Division 2 AA tournament. Go, Cougars!
Congratulations to Cornerstone Prep golf for winning the region tournament held on April 18. Special shout out to:
Low Medalist: MJ Hodge, 8
All-Region Player: Collin Burger, 10
Apr 30 | Elementary Field Day

May 3 | Schoolwide Spring Fling

May 7 | Athletic Physicals

May 10 | Graduation

May 16 | Grade 6 Movin Up Chapel

May 16 | Elem Class Party Day / Dismissal 2:15 p.m.

May 18 | Used Uniform/Book Sale