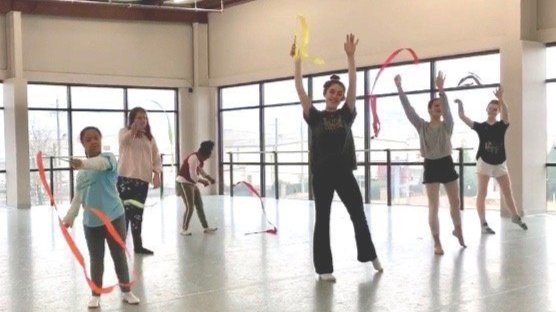 Senior Emily McGinnis Dances Into the Hearts of Children
Senior Emily McGinnis has never really known a time when she hasn't been a dancer. Since age three, she has been performing ballet, contemporary, and modern dance. When it came time for her to decide on her senior legacy project, she knew dance had to be a part of it. That's when she realized she could combine two of her passions into one by offering dance lessons to children with special needs.
Inspired by her brother, who has Down Syndrome, Emily took her idea to her dance teacher, who also had an interest in offering dance lessons to children with special needs. Together, they took their dreams and turned them into reality.
"Dancing is so good for any person no matter the disability, and I really wanted to give children with disabilities the chance to be able to dance in a safe setting while making friends," said Emily. 
In an effort to minimize travel time for families attending chapel and class parties, we have adjusted the Thu, May 16, schedule as follows (Schedule J):
All students arrive at the regular time of 8:30 a.m. and go to their 3rd-period class
Combined Chapel featuring the 6th Grade Moving Up Ceremony at 9:30 a.m. in the Gym
Class parties from 10:30 a.m. - 12:30 p.m. Parents are encouraged to attend.
Dismissal at 12:30 p.m.
5th grade collected the most Box Tops and will receive a DAYL, Dress As You Like Day, for Tue, May 7.
Thank you to everyone for contributing to this program and supporting Cornerstone. Keep collecting over the summer and remember the program will be going digital and should make it even easier to participte.
Special thanks to Mrs. Knight for all her work coordinating this program.
Cornerstone Prep competed against seven other Christian schools in the region and received a second-place trophy for their amazing artworks at the GICAA Regional Visual Arts Competition hosted at SCAD Atlanta on Apr 23.
Students receiving ribbons will move on to the GICAA State Visual Arts Competition in Macon, Georgia, on Thu, May 2. Congratulations to all!
Chloe Benson, 7
Kendall Brisco, 7 - 4th place in Middle School Mixed Media
Kelsey Ellison, 11 - 2nd place in Photography
Garrett Justice, 11 - 2nd place in Digital Illustration
Jordan Mitchler, 11 - 2nd place in Printmaking and 4th place in Photography
Rachel Shannon, 10 - 1st place in Painting
Jordan Weber, 9
Rachel Weber, 12 - 1st place in Printmaking
May 6, 2019
All day
Lake Spivey, Georgia 30236, USA
May 3 | Schoolwide Spring Fling

May 7 | Athletic Physicals

May 10 | Graduation

May 16 | Grade 6 Moving Up Chapel

May 16 | Elem Class Party Day / Dismissal 12:30 p.m.

May 18 | Used Uniform/Book Sale