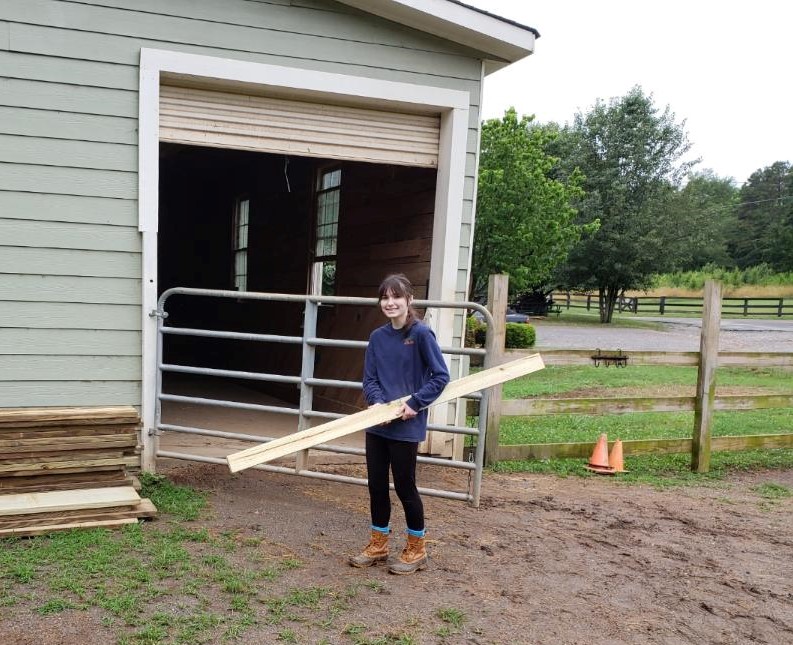 Cornerstone Senior Completes Her Girl Scout Gold Award Project
Cornerstone senior Elise Bussiere, who has attended Cornerstone Prep since 7th grade, has recently finished her Girl Scout Gold Award Project. This is a task that only about six percent of Girl Scouts earn.

This is no small feat, as each candidate must spend at least 80 hours conducting research to make a sustainable impact on their community. Elise teamed up with Trinity Rescue in Acworth to build seven obstacles to assist with the process of desensitizing horses during their rehabilitation at the facility.

Please join us in congratulating Elise on this outstanding achievement!

Head over to Bright Side News to read the full article featuring Elise. And to learn more about Elise's project and Trinity Rescue, check out their Facebook Pages at A Horse with No Name and Trinity Rescue and Equine Sanctuary.

Thank you to all the families who participated in our communications survey last spring. As a result of your feedback, we have revised the layout to better meet our families' needs.
Buttons linking you to upcoming events calendars are now located at the top of the Chronicle for easy access.
Bigger and bolder headers now separate the individual sections.
The "Announcements" sections will only feature upcoming events, important messages, or deadlines.
"In the News" will be added when we have updates on things that have already taken place, such as competition results, shout outs, etc.
"Week at a Glance" shows non-athletic upcoming events.
The athletics section has received a new look.
"Mark Your Calendar" is located at the bottom letting you know of major upcoming events for the next two months.
Log into the Family Portal for detailed Back-to-School information regarding:
Summer Assignments, Book List, & Supply Lists
Medical Form Update Instructions; Deadline is Thu, Aug 1
Parking Permit deadline is Wed, Jul 31
Schedule for Elementary Meet & Greet, Tue, Jul 30 @ 6:15 p.m.

Students and parents attend. Kona Ice will be on the field.

Schedule for Elementary Parent Training Day, Thu, Aug 1

Note: Two identical trainings offered for grades 1-6: Your choice to attend both for multiple children. This is a parents-only event.

9th Grade Legacy Night Ceremony, Thu, Aug 1
Schedule for Secondary Back-to-School Day, Fri, Aug 2

Note: MS begins at 8:30 a.m.; HS begins at noon

Schedule for Optional Technology Help Sessions
Remember you access the Family Portal by selecting "Quicklinks" from our Cornerstone website.
Email Jennifer Bolding, registrar, the following to ensure your child's full-time enrollment is reported correctly.
New address
New school district*
*It is your responsibility to ensure we have the correct school district. Examples of school districts include the following:
Paulding County
Marietta City
Cobb County
Note: Mrs. Bolding only submits attendance for full-time students. If you are unsure of what qualifies as full time, please refer to the Parent-Student Handbook - "Attendance & Enrollment Reporting / Full-time vs. Part-time" - for full details.

After you drop off your elementary student for his/her first day of school on Tue, Aug 6, join us in the Den from 8:30-9:30 a.m. for a time of prayer hosted by the PTF (Parent + Teacher Fellowship). This is an opportunity to pray over the school year together. All parents, young siblings, and grandparents are welcome. The prayer meeting gathers every Tuesday at 8:30 a.m. We invite you to attend on a regular basis or whenever your schedule permits.
Also, please save the date for the upcoming first PTF Meeting, Thu, Aug. 15, at 8:30 a.m. in the Den. The PTF has no fees and everyone is welcome.
When you are new to something, you don't know what you don't know. The PTF is looking for your tips, advice, and words of encouragement for our new Cornerstone families. Think back to when you were brand new and what you wished you knew. Or what have you learned that has worked for your family and share it in the form below.
The PTF plans on printing out the responses in a little booklet to give out to the new families when they come to the New Families Q & A to be held on Thu, Aug 8, 8:30 a.m. in the Den.
Please complete the form by Wed, Jul 31.
Tips, Advice, Words of Encouragement Form
Questions? Please contact Mrs. Alleyne.
Back-to School Parent Training is Thu, Aug 1. Some families need babysitters as students are not in attendance on this day.
If you would like a list of students located in your zip code that are interested in babysitting, please contact Tina Souza. Please include your zipcode in your email request.




It's not too early to start thinking about outerwear for the fall and winter. Many students prefer to wear outerwear from our spirit store instead of Land's End.

Jul 26, 2019
7:00 PM - 8:30 PM
Cornerstone Preparatory Academy, 3588 Hickory Grove Rd NW, Acworth, GA 30101, USA
Jul 30 | Elementary Meet & Greet
Aug 1 | Elementary Parent Training Day / Legacy Night for Grade 9
Aug 2 | Secondary Back-to-School Day
Aug 5 | Secondary First Day
Aug 6 | Elementary First Day
Aug 8-9 | HS Retreat
Aug 9 | MS Retreat