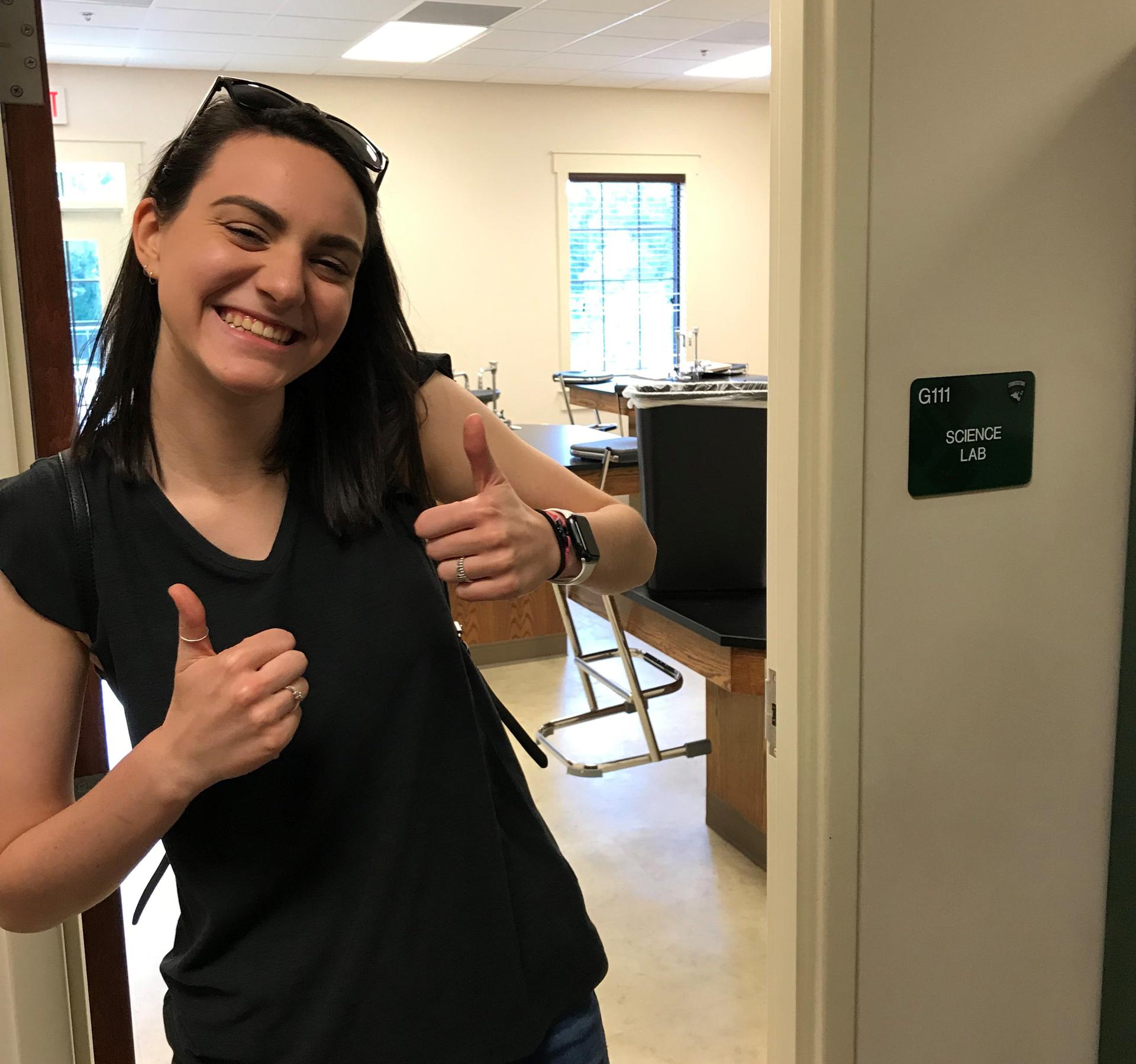 We caught up with recent graduate Alexa Cosgrove, who is currently interning with S & S Engineers, to find out why her latest project was "exhausting."
Alexa, who graduated in 2019, recently returned to Cornerstone and had the opportunity to draw up the design of the new exhaust fans in our two science labs. These exhaust fans will be beneficial to help reduce odors and fumes and are a significant improvement to our science department.
Click below to read more about Alexa's experience.

Beginning Thu, Aug 1, the city will start road construction to widen SR 92/Lake Acworth Drive from US 41/SR 3/Cobb Parkway to Glade Road to a divided 4-lane facility. This is a long term project with construction expected to take over three years to complete.
While this is a much-needed improvement, expect delays. We recommend you find an alternate route or plan on increasing your commute time in order to arrive at school on time throughout the school year.
In case you didn't know:
Change requests depend upon availability and are processed in the order they are received.

No schedule changes will be accepted until after the first day of class. Please allow 48 hours for any requested changes.

You may make schedule change requests for both semesters now. You do not need to wait until the second semester to make those changes.
Log into the Family Portal for detailed Back-to-School information regarding:
Summer Assignments, Book List, & Supply Lists
Medical Form Update Instructions; Deadline is Thu, Aug 1
Parking Permit deadline is TODAY, Wed, Jul 31
Schedule for Elementary Parent Training Day, Thu, Aug 1

Note: Two identical trainings offered for grades 1-6: Your choice to attend both for multiple children. This is a parents-only event.

9th Grade Legacy Night Ceremony, Thu, Aug 1
Schedule for Secondary Back-to-School Day, Fri, Aug 2

Note: MS begins at 8:30 a.m.; HS begins at noon

Schedule for Optional Technology Help Sessions
Remember you access the Family Portal by selecting "Quicklinks" from our Cornerstone website.

Park and pick up your student at regular dismissal time.

The Kona Ice truck will be located near the gym and begin serving at 3:30 p.m.

Enjoy eating your Kona Ice on the field while visiting with other families.
After you drop off your elementary student for his/her first day of school on Tue, Aug 6, join us in the Den from 8:30-9:30 a.m. for a time of prayer hosted by the PTF (Parent + Teacher Fellowship).
This is an opportunity to pray over the school year together. All parents, young siblings, and grandparents are welcome.
The prayer meeting gathers every Tuesday at 8:30 a.m. We invite you to attend on a regular basis or whenever your schedule permits.
Note: After the first meeting, Moms in Prayer will be meeting weekly in the Art Room, B114.
Also, please save the date for the upcoming first PTF Meeting, Thu, Aug. 15, at 8:30 a.m. in the Den. The PTF has no fees and everyone is welcome.
Calling all new families! The PTF board wants you to know you are not alone; we're here for you! We are moms who are also schooling our kids right along with you and know exactly what it's like.
The PTF would like to welcome you with a Question & Answer session on Thu, Aug 8, in the Den right after student drop off, 8:30 a.m., to discuss and help with:
ParentsWeb
Google Classroom
Lesson plans
Organization and planning
Schooling multiple children and/or schooling with toddlers
Time management
Meal planning
"Me" time
Motivating your kids and yourself
If you have any specific questions that you would like to be addressed during the meeting, please send those to Mrs. Alleyne.




Aug 1 | Elementary Parent Training Day / Legacy Night for Grade 9
Aug 2 | Secondary Back to School Day
Aug 5 | Secondary First Day
Aug 6 | Elementary First Day
Aug 8-9 | HS Retreat
Aug 9 | MS Retreat
Aug 12 | Last Day Schedule Change
Aug 16 | Senior Breakfast
Aug 26-27 | Picture Day
Aug 30 | IMPACT Reveal
Sep 2 | No School Labor Day
Sep 23-27 | Fall Break