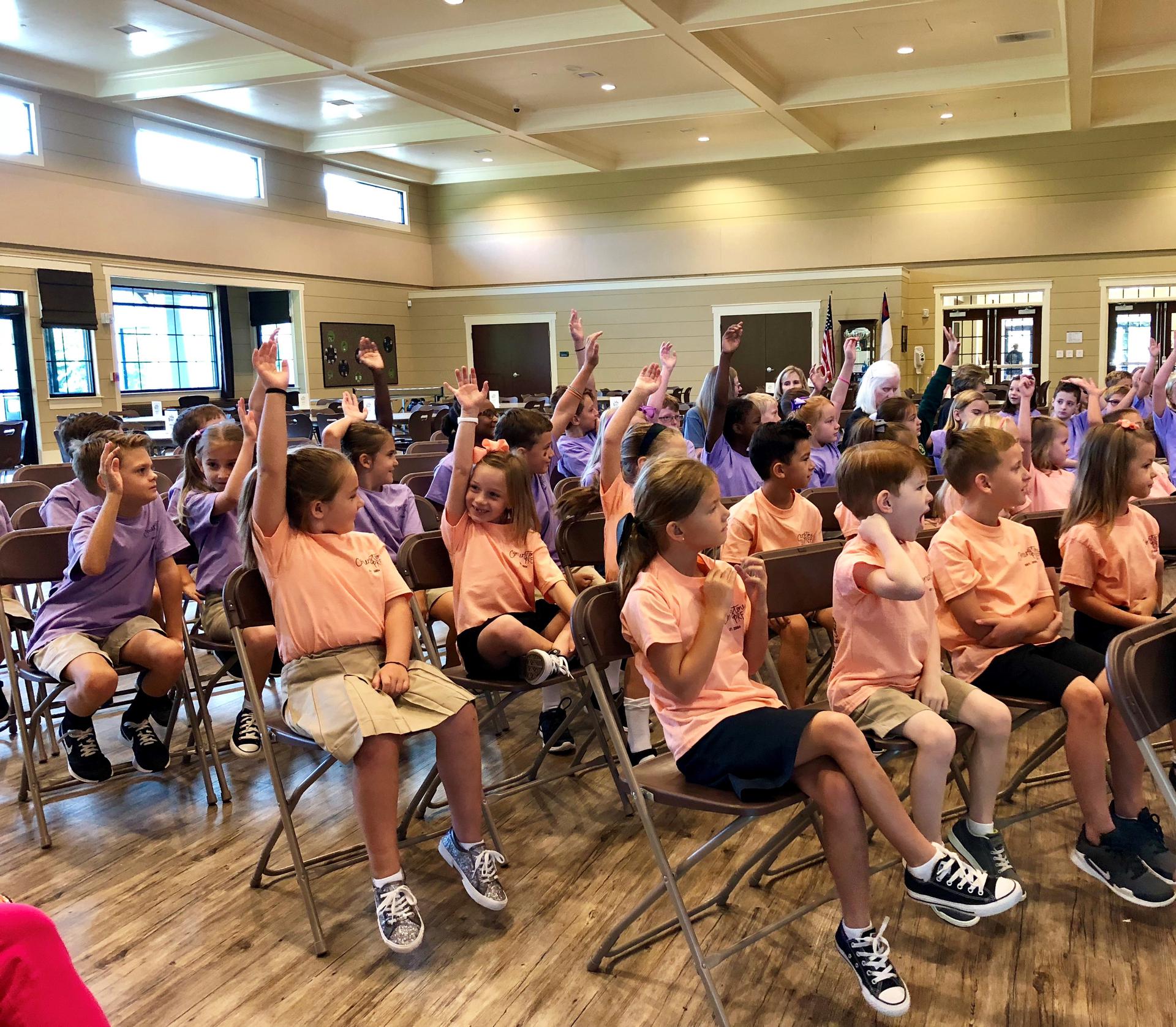 Transforming Lives Through Chapel
One of the most wonderful things that happens at Cornerstone is chapel. From the precious singing of second-graders to the student-led worship time in high school, our chapels are created specifically for their respective age groups.

Each year, much thought and prayer goes into deciding the overall theme for chapel. The following themes are ones that have been impressed upon Pastor Nolan's heart for the 2019-20 school year, and we're so excited to share them with you.
Click here to read more about our Chapel themes this year.

Towing Signs Are Posted
We experienced some illegally parked vehicles on our campus over the summer. This has prompted us to establish a towing contract with a company recommended to us by the Acworth police.
Our goal is the safety of our families and facility. We are aware that there may be times that students or parents need to leave their vehicle parked overnight. We request that you let us know by completing the Overnight Parking Request Form so we do not inadvertently have your vehicle towed.
Collect Pop Tabs and Help Families in Need
Please save the pop tabs from energy drinks, soup cans, or anything with a metallic tab. Collect tabs at home in a container or a baggy, then bring it to our collection container in the Den. This is such an easy way to help make a difference.
The pop tabs are recycled, and Ronald McDonald House receives the market value of the recycled metal. This is our third year helping families in need!
Deadline For Semester Schedule Change Is Mon, Aug 12 @ 4 p.m.
In case you didn't know:
Change requests depend upon availability and are processed in the order they are received.

Please allow 48 hours for any requested changes.

You may make schedule change requests for both semesters now. You do not need to wait until the second semester to make those changes.

NOTE: Mrs. Bolding will email you when your requested schedule change has been approved and you can begin attending your new class.

The PTF seeks to glorify Jesus through meaningful support of our Cornerstone staff, teachers, and families by providing important information, school promotion, and connection opportunities.
Everyone is invited to attend PTF on Thu, Aug 15, at 8:30 a.m. in the Den.
Remember there are no fees, and younger siblings are welcome.
Students will wear a regular uniform for the first Cornerstone Cares Day, Tue, Aug 13.
Cornerstone Cares T-shirts will be distributed on this day.
What to do on Cornerstone Cares Days:
Students are asked to collect spare change or do extra chores/jobs around the house to earn money for one of our Cornerstone Cares Day partners.
Calling all new families! The PTF board wants you to know you are not alone; we're here for you! We are moms who are also schooling our kids right along with you and know exactly what it's like.
The PTF would like to welcome you with a Question & Answer session tomorrow, Aug 8, in the Den at 8:30 a.m. right after student drop off to discuss and help with:
ParentsWeb
Google Classroom
Lesson plans
Organization and planning
Schooling multiple children and/or schooling with toddlers
Time management
Meal planning
"Me" time
Motivating your kids and yourself
If you have any specific questions that you would like to be addressed during the meeting, please send those to Mrs. Alleyne.




Aug 8-9 | HS Retreat
Aug 9 | MS Retreat
Aug 12 | Last Day Schedule Change
Aug 16 | Senior Breakfast
Aug 26-27 | Picture Day
Aug 30 | IMPACT Reveal
Sep 2 | No School Labor Day
Sep 23-27 | Fall Break