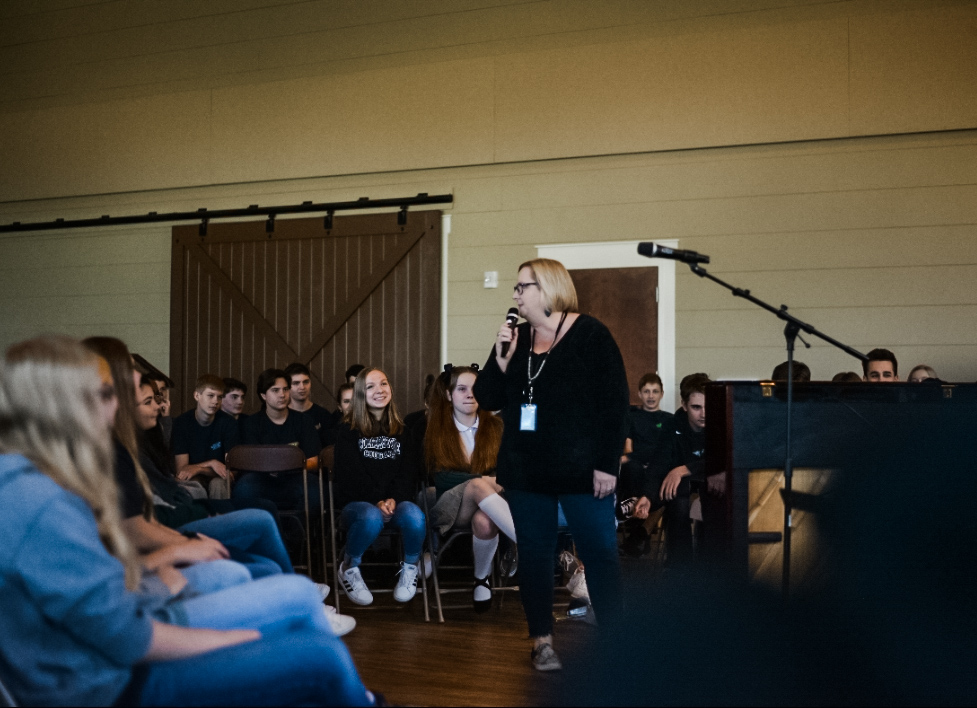 Cornerstone Secondary Principal Shares a Timely Message with our Students
In October, Secondary Principal Janie Niswonger, had the honor of speaking to our secondary students in gathering on the topic of forgiveness.

Click below to hear more of her timely message.



Our spring sports are:
Baseball | $600
Golf, boys and girls | $600
Soccer, boys and girls | $500
Tennis, boys and girls | $400
Early registrations will receive $50 discount. Early registration ends Wed, Nov 20.
Students will be viewing Screenagers: NEXT CHAPTER on Fri, Nov 15 at 10 a.m. in their second period classroom. We will be following a special schedule this day.
Follow Schedule: Screenagers
Dress: Gathering shirt and blue jeans

Congratulations to our ladies who were selected to play in the Volleyball All-Star game on November 2!
Laura Grace Crews
Alyssa Galvin
Symone Gaskin
Kylie Phelps
Way to represent Cornerstone, ladies!



Archery Takes First Aim of the Season | Sat, Nov 9
Pray for our archery team as they have their first meet of the season at Young Americans Christian School in Conyers at 9 a.m. on Sat, Nov 9.
Swim Kickoff Meet | Sat, Nov 9
Our swim team is ready to make some waves in their first meet of the season which will be held at the Cherokee Aquatic Center beginning at 3 p.m. on Sat, Nov 9.
Shotgun Season Begins | Sat, Nov 9
Cornerstone's first ever shotgun team will compete in their first meet, hosted by Harvester Christian Academy, at the Tom Lowe Shooting Grounds on Sat, Nov 9.
The Cornerstone team consists of 6 shooters who will shoot clay targets in the 11 a.m. and 2 p.m. flights.
Before you buy: Please note that short- or long-sleeved T-shirts (with or without hoods) are not permitted on regular uniform days. Students must wear a Land's End, uniform-approved polo under any approved outerwear.
Sale Ends: Sat, Nov 30

Enter Promo Code: NOV19

Nov 8, 2019
4:00 PM - 9:00 PM
Cornerstone Preparatory Academy, 3588 Hickory Grove Rd NW, Acworth, GA 30101, USA
Nov 9, 2019
8:30 AM - 1:30 PM
Tom Lowe Trap, Skeet, And Sporting Clays Range, 3070 Merk Rd SW, Atlanta, GA 30349, USA
3:00 PM - 7:00 PM
Cherokee County Aquatic Center, 1200 Gresham Mill Pkwy, Canton, GA 30114, USA
Nov 25-29 | Thanksgiving Break

Dec 6 & 7 | "It Happened One Night" Dessert Showcase
Dec 13 | MS/HS Combined Christmas Gathering
Dec 16-20 | Secondary Final Exam Week
Dec 19 | Elementary Last Day Christmas Chapel & Parties (Early Dismissal)
Dec 23-Jan 5 | Christmas Break