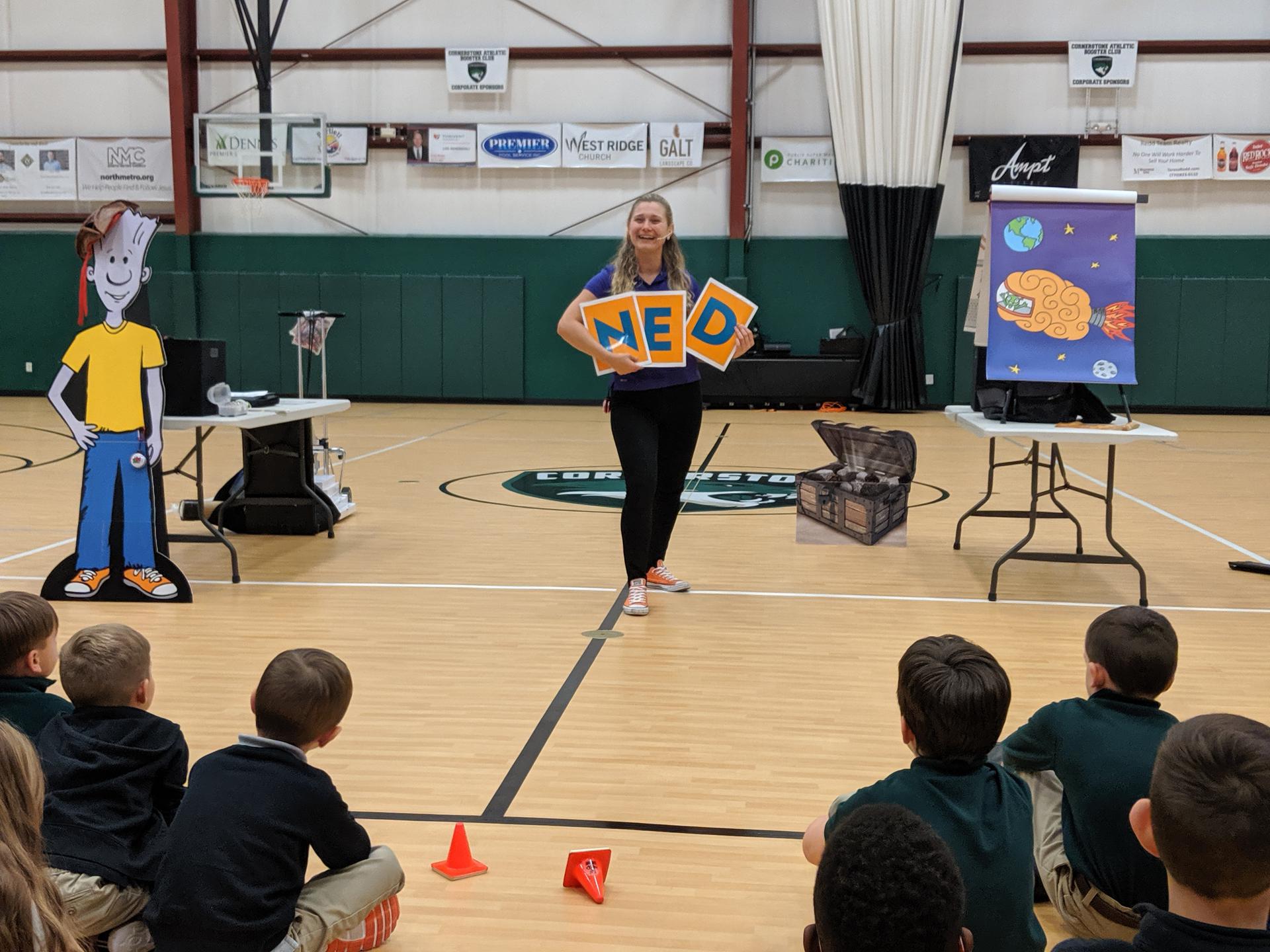 NED leads Cornerstone students on 'Mindset Mission'
Last Thursday, Cornerstone elementary students were lucky enough to experience NED's Mindset Mission show. The power of NED instructs students to never give up, encourage others, and always do your best!
Click below to read more about the captivating performance.


Students will be viewing Screenagers: NEXT CHAPTER on Fri, Nov 15, at 10 a.m. in their second period classroom. We will be following a special schedule this day.
Follow Schedule: Screenagers
Dress: Gathering shirt and blue jeans

As a college-preparatory school, we are excited to share with our Cornerstone family our college admissions to date. Though it is only November, 21 of our 54 seniors have already received college acceptances, with three students awarded university scholarships.
Click the link below to see where our seniors are accepted:
Class of 2020 College Acceptances
Many college admission letters are sent after December. We will share an updated list of college acceptances again in the spring.



Archery Was on Target
Coach Nguyen said all new archers did great!
Congratulations to Owen Williams, 9, who finished 2nd overall for HS boys.
Basketball Home Opener
Congratulations to our varsity basketball team, who won their home opener against Shiloh Hills on Nov 8.
Also, congratulations to our girl's team, who was narrowly defeated but only after coming from behind and forcing an overtime!
Shotgun Shot Well
Our shotgun team was very competitive at their first-ever meet.
Congratulations to Jake Lashley, 12, and Jake Freiler, 9, who had the highest scores for our team on Nov 9.
Swim Team Makes a Splash
Several swimmers placed in the top 10 in various races at their first swim meet. Congratulations!
Click here to see how our swimmers ranked.
Congratulations to all three volleyball teams for having great seasons! Awards were given out at the yearly end-of-season banquet. Congratulations to the following players on their awards:
MS Defensive Player: Raelyn Pirozzi, 8
MS Offensive Player: Mary Margaret Wilson, 7
MS Green and Black Award: Francie Russell, 8
MS Most Improved: Avery Wall, 8
MS Dragon Slayer Award: Bella Holbrook, 8
JV Defensive Player: Marchella Gatti, 9
JV Offensive Player: Anna Capozza, 11
JV Green & Black Award: Madelyn Orton, 10
Varsity Defensive Player: Tessa Jamieson, 11
Varsity Offensive Player: Laura Grace Crews, 12
Varsity Green & Black Award: Alyssa Galvin, 12

Nov 25-29 | Thanksgiving Break

Dec 6 & 7 | "It Happened One Night" Dessert Showcase
Dec 13 | MS/HS Combined Christmas Gathering
Dec 16-20 | Secondary Final Exam Week
Dec 19 | Elementary Last Day Christmas Chapel & Parties (Early Dismissal)
Dec 23-Jan 5 | Christmas Break