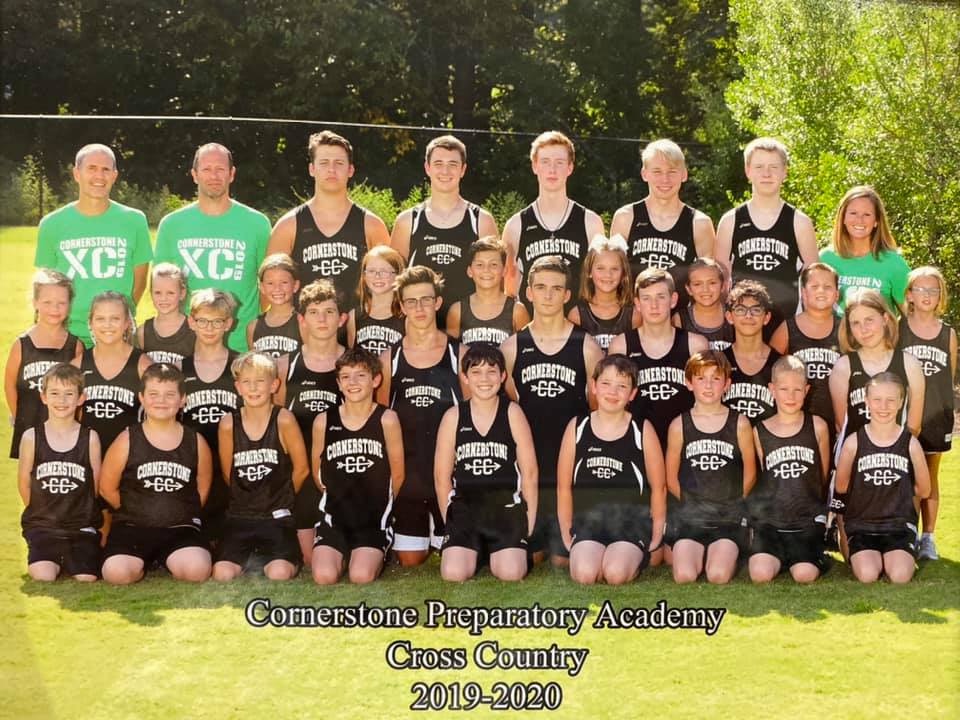 Cross-Country Coach Jenny Ostell Celebrates a Decade of Excellence
Jenny Ostell, now in her 10th year as the cross-country head coach, says the hard work from her runners and the satisfaction of watching them improve has kept her coming back year after year.



Don't Forget:
Exemptions requirements for high school students can be found in the Parent-Student Handbook, page 18.
Reminder: No exams are administered for elective classes. Ideally, your child should be on campus only when he/she is taking an exam for a core class. We do have an allowance, however, in situations where there are multiple children in a family and the exam schedules do not match up. In such circumstances, there will be a monitored STUDY HALL in the Den. This time must be used only as a study hall. Students who do not comply with the quiet, studious atmosphere will be asked to call a parent to be picked up.
Any current grade 8-11 student interested in taking an AP course at Cornerstone in the 2020-21 academic year must attend the information meeting for that course and meet eligibility requirements. Attendance is mandatory even if you are currently enrolled in an AP course. At least one parent must also attend the meeting, unless otherwise noted.
Click here for detailed information regarding requirements, application process, and essay writing dates.
2020-21 AP Course Offerings
AP Computer Science Principles, Grades 9-12
AP Geography, Grade 9 (By Invitation Only)
AP World History, Grade 10
AP U.S. History, Grade 11
AP Lit/Comp, Grade 12
AP Calculus, Grade 12
AP Interest Meeting Dates:
AP Lit/Comp Parent Meeting is Wed, Jan 8 | During student's lunch if student has not taken an AP course before at Cornerstone
Computer Science Parent Meeting is Fri, Jan 10 | 7:45 a.m.
Geography & History Parent Meetings are Mon, Jan 13 | 7:45 a.m.
Calculus parent presence is NOT required if student has previously taken AP at Cornerstone
Please contact Mrs. Niswonger if you have any questions.



Two Basketball Players Break Records
Joshua and Austin are the first students in Cornerstone history to reach the following basketball milestones. Way to go, guys!
Congratulations to Joshua Greene, 12, for accomplishing the rare feat of scoring his 1,000th career point last Friday during the varsity basketball 83-48 win over Fideles. What makes this even more impressive is the time Joshua missed during his freshman and sophomore years due to injuries. Joshua received a team-signed basketball and poster highlighting the event after the game.
We also want to congratulate Austin Redd, 11, for grabbing his 500th career rebound last Saturday during the varsity basketball 58-51 win over Johnson Ferry. Austin received a plaque and poster after the game highlighting the milestone.
Congratulations to our competition cheer team who had two state competitions over the weekend. They won:
GAPPS Champions
FCC Georgia State Champions
Overall Grand Champs in the School Division at the FCC Competition
A special congratulations goes to:
Jocelyn Cowart, 7, who won 1st in tumbling
Lilli Pascoe, 10, who won best in jumps
Next stop... National Championship in Orlando, Florida, January 2-5. What a great season for this amazing team!

Dec 21, 2019
9:00 AM - 11:00 AM
Peachtree Academy, 14101 US-278, Covington, GA 30014, USA
10:00 AM - 3:00 PM
Unity Christian School, 2960 New Calhoun Hwy NE, Rome, GA 30161, USA
Dec 16-20 | Secondary Final Exam Week
Dec 19 | Elementary Last Day Christmas Chapel & Parties (Early Dismissal)
Dec 23-Jan 5 | Christmas Break
Jan 06 | First Day Second Semester
Jan 10 | Last Day Schedule Change
Jan 10 | Elementary PTF Sparkles Roller Skating
Jan 20 | No School MLK Holiday
Jan 27-31 | Family Week
Jan 28 | State of School - All Parent Meeting
Jan 30 | Grandparents Day