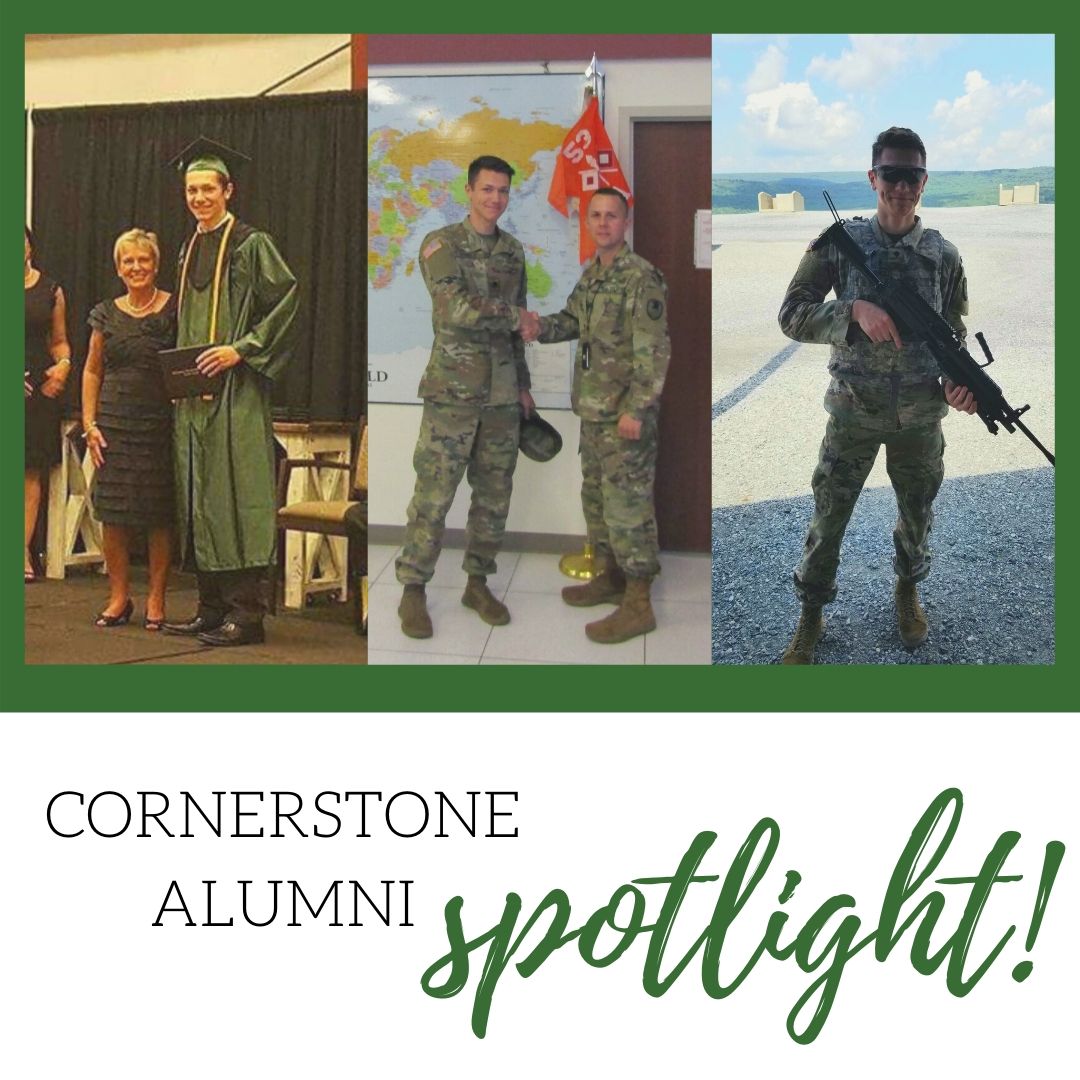 Alston Arnold ('17) Makes Life-Changing Leap of Faith
A Cornerstone education not only prepares students academically, but also to be bold in their faith by living out their God-given purpose.
Click below to read more about alumnus Alston Arnold ('17) and his life-changing leap of faith.

IM boys and girls soccer for grades 2-6 early registration is Jan 8-22.
Payment is due Wed, Jan 29.
Season Information:

Held after school on Tuesdays and Thursdays 4-5:30 p.m. beginning in March.
The season ends in May.
Shane Williams will be coaching again this season.
PTF will be welcoming special speaker Brandon Brown, LPC, for the Thu, Jan 9, meeting from 8:30-9:45 a.m. in the Den.
Remember there are no fees, and younger siblings are welcome.
PTF invites your family to join them at Sparkles on Fri, Jan 10, from 1-4 p.m.
Admission is just $6 and includes two activities.

Be on the lookout: PSAT results for 9th grade were distributed to your student today.
Any current grade 8-11 student interested in taking an AP course at Cornerstone in the 2020-21 academic year must attend the information meeting for that course and meet eligibility requirements. Attendance is mandatory even if you are currently enrolled in an AP course. At least one parent must also attend the meeting, unless otherwise noted.
Click here for detailed information regarding requirements, application process, and essay writing dates.
2020-21 AP Course Offerings
AP Computer Science Principles, Grades 9-12
AP Geography, Grade 9 (By Invitation Only)
AP World History, Grade 10
AP U.S. History, Grade 11
AP Lit/Comp, Grade 12
AP Calculus, Grade 12
AP Interest Meeting Dates:
Computer Science Parent Meeting is Fri, Jan 10 | 7:45 a.m.
Geography & History Parent Meetings are Mon, Jan 13 | 7:45 a.m.
Calculus parent presence is NOT required if student has previously taken AP at Cornerstone
Please contact Mrs. Niswonger if you have any questions.

Thank you to every Box Tops contributor!
We recently received a bonus check of $466.40. The plan is to use these monies to purchase playground balls and other play equipment.
Our next competition deadline is Fri, Feb 14.
Visit the Box Tops for Education website for an update on Box Tops offers. Click here for a short video showing how to scan your receipts.
Parents, begin the year off right with three informative Parent University health and wellness classes that will jump-start 2020 and lead you into your best, healthiest version yet!
Mrs. Pitzer, Farm2Fork teacher and health coach, will be offering classes regarding detox, gut health, and natural remedies.
Click here for a detailed description of the classes and dates
Classes are held every other week
8:45-10:15 a.m. in B114
Cost is $15 per class or $40 for all 3
Have questions or ready to RSVP? Email Mrs. Pitzer.



A huge congratulations to our coed competition cheer team for not only winning 1st in their division with the highest scores they have ever received, but also for beating out 30 schools from all around the nation, giving Cornerstone the National Grand Champs title.
They brought home best in Jumps, Tumbling, Stunts and Pyramids, Choreography, and Showmanship. This is a big deal for a small school like Cornerstone.
Cary Coleman, president of FCC, said it was like "David slaying Goliath to beat out such huge teams." The Cougars beat a school of 1,600 and reigning National Champs for the past eight years. He said "the judges had no doubt that we were the most impressive team over the entire weekend!"
Special shout-outs to:
Laney Wetter, 12, for receiving the FCC Scholar Athlete award
Lilli Pascoe, 10, for winning the Nationals Jump Jam for the High School Division.
Way to go, Cougars! We are so proud of you!
Congratulations to our varsity boys basketball team who won 3rd place in the Adairsville Christmas Clash Tournament!
A special shout-out goes to Joshua Greene, 12, and Devon Sweat, 11, for their selection on the All-Tournament Team.
Parents and girl soccer athletes meeting on Wed, Jan 15, in the Den at 4 p.m.

Jan 10 | Last Day Schedule Change
Jan 10 | Elementary PTF Sparkles Roller Skating
Jan 20 | No School MLK Holiday
Jan 23 | 6th Grade Advisement
Jan 27 | 8th Grade Advisement
Jan 27-31 | Family Week
Jan 28 | State of School - All Parent Meeting
Jan 30 | Grandparents Day

Jan 31 | MS Dance
Feb 12 | Re-enrollment Deadline
Feb 13 | Elem Daddy Daughter Dance
Feb 17-21 | Winter Break