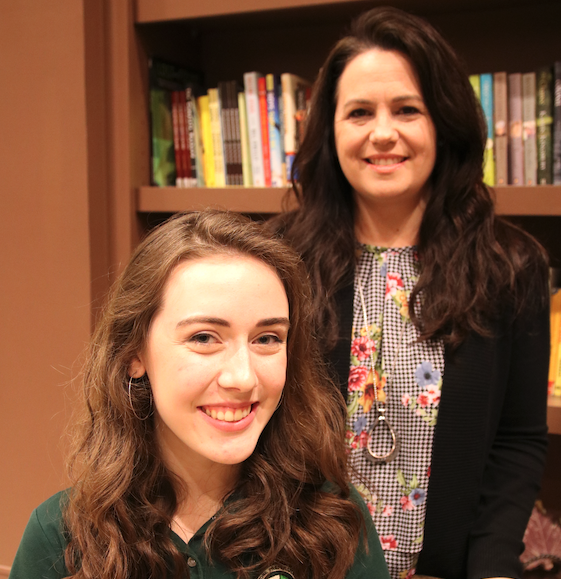 Wrenn and Manning Named 2020 STAR Student and Teacher
Congratulations to our 2020 STAR student, Jana Wrenn, and her STAR teacher, Mrs. Manning.
Click below to read more about this exceptional accomplishment.

In observance of MLK Day, school will be closed on Mon, Jan 20. Enjoy your day!
Family Week is a busy time at Cornerstone. Don't miss out on any of the events.
State of the School | Tue, Jan 28 | 7 p.m. | Gym

One parent is required to attend. Students should not attend.
Registration packets for 2020-21 will be distributed at this event

Grandparents Day | Thu, Jan 30 | 2 - 3:45 p.m.
Late Night & MS Dance | Fri, Jan 31
Scholastic book fair is also taking place this week. We need volunteers for set up, sales, and break down. Click here to volunteer.
Click here for a complete list of events and details.

School is back in session. Please remember:
Shirts need to be tucked in throughout the school day
A belt is required
Uniform bottoms must be Lands' End
Now that we are in spring semester, please consider dropping your student off in carline or at the welcome desk instead of walking them down the hall to their classroom in the mornings.
At this point in the school year, students are comfortable in the building and are familiar with where their rooms and lockers are. Dropping them off and allowing them to walk to their classroom helps them to become more independent! It also assists us in keeping the building secure in the mornings.
If you do need to help your child to their room, please stop by the welcome desk and get a green visitor sticker and then return the sticker when you leave the building.
If you need to speak with a teacher, please email them to set up an appointment. Our teachers value the time before school to focus on their students and the day ahead.
Mrs. Cosgrove, director of school counseling, will host an advisement meeting for current 6th grade students and families to help them understand the registration process for middle school and which specific courses students should choose. She will also discuss study tips and time management.
Grade 6 | Thu, Jan 23, at 7:40 a.m. in the Den | For parents and students
Please contact Mrs. Cosgrove with any questions.


All students and parents returning to Cornerstone for 2020-21 are asked to attend their respective advisement session with Mrs. Cosgrove. Important information about registration, schedules, and for 8th graders the transition to high school will be discussed.
Grade 7 | Fri, Jan 24 | 7:40 a.m. in the Den
Grade 8 | Mon, Jan 27 | 7:40 a.m. in the Den

Andrew Campanella, president of National School Choice Week, praises Cornerstone for being "an academy that prioritizes parent involvement and student achievement while also offering a flexible and affordable schooling and learning schedule" in his book due out this month.
BJU Press AfterSchoolHelp provides a safe, free online resource for students to access video tutorials and practice tests for the following subjects:
English 4-12
Math

Fundamentals of Math
Pre-Algebra, Algebra 1, and Algebra 2
Geometry

Spanish 1
While we do not use BJU textbooks for all these subjects, we wanted to share this additional resource for our families as we partner in education.



Girls soccer athletes will meet in the Den at 4 p.m.
Tennis athletes will meet in G102 at 4 p.m.
Golf parent meeting will be Wed, Jan 22, at 4 p.m., in the Den.
Swim Team Makes Waves at Georgia Tech
On Jan 11 our swim team competed at Georgia Tech in one of their largest meets this season, including over 700 swimmers. With so many competitors, finishing in the top 10 is a big accomplishment!
Congratulations to our swim team top 10 finishers in the meet:
Maddy Beatty (8) placed 10th in 50 Breast
Sam Boland (7) placed 9th in 50 Fly
Lily Buck (8) placed 4th in 100 IM, 2nd in 100 Free, and 3rd in 50 Fly
Will Houghton (12) placed 3rd in 50 Free, 6th in 100 Breast, and 1st in 100 Free
Celeste Whitney (8) placed 7th in 50 Fly
Boys Free Relay placed 7th

Noah Stone (10)
Noble Cusick (9)
Drew Snyder (10)
Will Houghton (12)
Congratulations also goes to the following swimmers who shaved seconds off their times:
Jett Jennings (10)
Drew Snyder (10)
Lily NordbyWills (7)
And the biggest time dropper was Philip Chase (8) with over 11 seconds in the 50 Free!
Way to go, swimmers, and good luck in the state meet on Sat, Feb 1!

Jan 20 | No School MLK Holiday
Jan 23 | 6th Grade Advisement
Jan 27 | 8th Grade Advisement
Jan 27-31 | Family Week
Jan 28 | State of School - All Parent Meeting
Jan 30 | Grandparents Day

Jan 31 | MS Dance
Feb 12 | Re-enrollment Deadline
Feb 13 | Elem Daddy Daughter Dance
Feb 17-21 | Winter Break