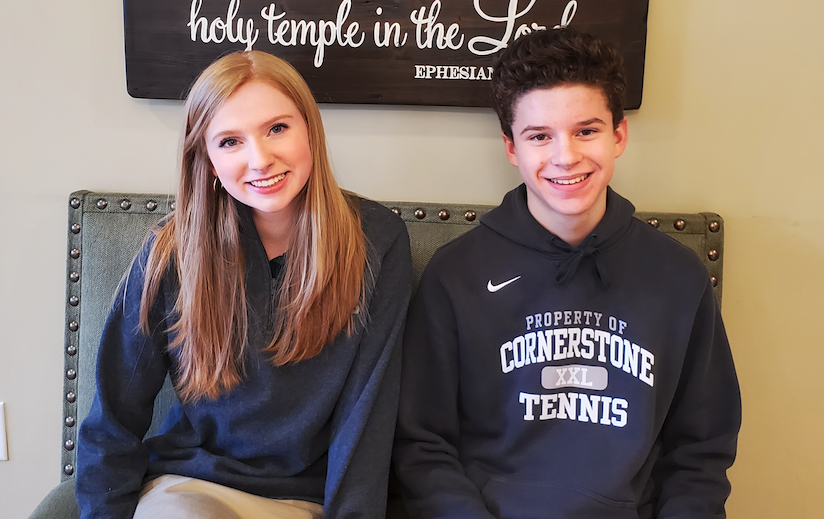 Cornerstone Juniors are Leading by Example
Since 1989, Cobb Youth Leadership Program (CYL) has been giving high school juniors a unique opportunity to learn about their community as well as interact with students from other high schools. This year, we are proud to announce that two of our Cornerstone juniors, Abigail Larsen and Matthew Garner, were accepted into the program.

Family Week is a busy time at Cornerstone. Don't miss out on any of the events.
State of the School | Tue, Jan 28 | 7 p.m. | Gym

One parent is required to attend. Students should not attend.
Registration packets for 2020-21 will be distributed at this event.

Grandparents Day | Thu, Jan 30 | 2 - 3:45 p.m.
Late Night & MS Dance | Fri, Jan 31
Scholastic book fair is also taking place this week on Tue and Thu. We need volunteers for set up, sales, and break down. Click here to volunteer.
Click here for a complete list of events and details.
Attention all ladies and high school girls, don't miss out on this wonderful opportunity to fellowship and dive-in to God's word together right here at Cornerstone.
A nominal fee of $10 covers Friday dinner, Saturday breakfast, lunch, and snacks during the event.
If you cannot attend the entire event, join us when you can.
Click here for more information.
Please RSVP by Fri, Jan 31 if possible.
Have questions? Email Mrs. Nguyen


All students and parents returning to Cornerstone for 2020-21 are asked to attend their respective advisement session with Mrs. Cosgrove. Important information about registration and schedules will be discussed. In the 8th grade session, how to help students transition to high school will also be discussed.
Grade 7 | Fri, Jan 24 | 7:40 a.m. in the Den
Grade 8 | Mon, Jan 27 | 7:40 a.m. in the Den

Thanks for saving the pop tabs from energy drinks, soup cans, or anything with a metallic tab. The pop tabs are recycled, and Ronald McDonald House receives the market value of the recycled metal.
You already filled the collection box the first semester, let's do it again second semester.
Please remember you can help support Cornerstone, at no cost to you, by utilizing these programs:
About AmazonSmile

Amazon donates 0.5% of the price of your eligible AmazonSmile purchases to the charitable organization of your choice.
Please note: You will need to log in to AmazonSmile when placing your order, not the regular Amazon website, in order for Cornerstone to receive a donation.



Golf parent meeting will be Wed, Jan 22, at 4 p.m., in the Den.
Senior Night for Basketball & Cheer
Join us as we recognize our seniors on Fri, Jan 24 between the girls varsity game (5:30 p.m.) and the boys varsity game (7 p.m.).
Boys Basketball:
Jeremiah Anderson
Evan Barrett
Caleb Cowart
Elijah Cundiff
Tyler Francis
Joshua Greene
Brennan Pritchard
Gray Walters
Girls Basketball:
Alyssa Galvin
Kylie Phelps
Coed Competition Cheer:
Wade Cooney
Laney Wetter
Luke Adams
James Greene
Joshua Greene Makes Cornerstone History AGAIN
Congratulations to Joshua Greene for collecting his 500th career rebound in the 58-51 varsity basketball victory over North Atlanta Christian Flight on January 14.
Josh received a plaque and a poster highlighting this career achievement after the game. Josh's first milestone was a 1,000 career points scored. Both milestones were achieved despite missing almost half his freshman and sophomore seasons with injuries. Way to go Joshua!
IM Basketball Season Wrap-Up
Intramural basketball teams wrapped up their season on January 18 with a 3-team tournament.
Team 2 won the tournament with a close 2-point difference.
Hayden Daniel
Cooper Goodson
Sydney Goodson
Evan Kessler
Matthew Melcher
Coach Miriam Donovan said that they had a great season learning the fundamentals of basketball, drills, zone defense, and man-on-man defense. She stated that she enjoyed watching each individual player improve throughout the season and loved getting to know each player.
Coed Competition Cheer Awards
Congratulations to the following students who won character awards at the end of season Coed Competition Cheer Banquet:
James Grenne | Committed
Wade Cooney | Dependable
Luke Adams | Quick-Witted
Laney Wetter | Loyal
Courtney Carmichael | Self-Disciplined
Anna Falkins | Perservering
Charis Williams | Ambitious
Jocelyn Cowart | Energetic
Ally Kakaty | Humble
Isabel Guice | Fortitude
Kaelyn Eeles | Consistent
Lilli Pascoe | Spirited
Courtney King | Sweet Spirit
Hannah Dickerson | Supportive
Also, congratulations to James Greene for winning the Leadership Award and Anna Falkins for the Most Improved Award.
Congratulations to the entire Coed Competition Cheer Team for an UNDEFEATED season winning:
GAPPS Grand Champs
FCC Georgia Grand Champs
FCC National Grand Champs

Jan 23 | 6th Grade Advisement
Jan 27 | 8th Grade Advisement
Jan 27-31 | Family Week
Jan 28 | State of School - All Parent Meeting
Jan 30 | Grandparents Day

Jan 31 | MS Dance
Feb 12 | Re-enrollment Deadline
Feb 13 | Elem Daddy Daughter Dance
Feb 17-21 | Winter Break