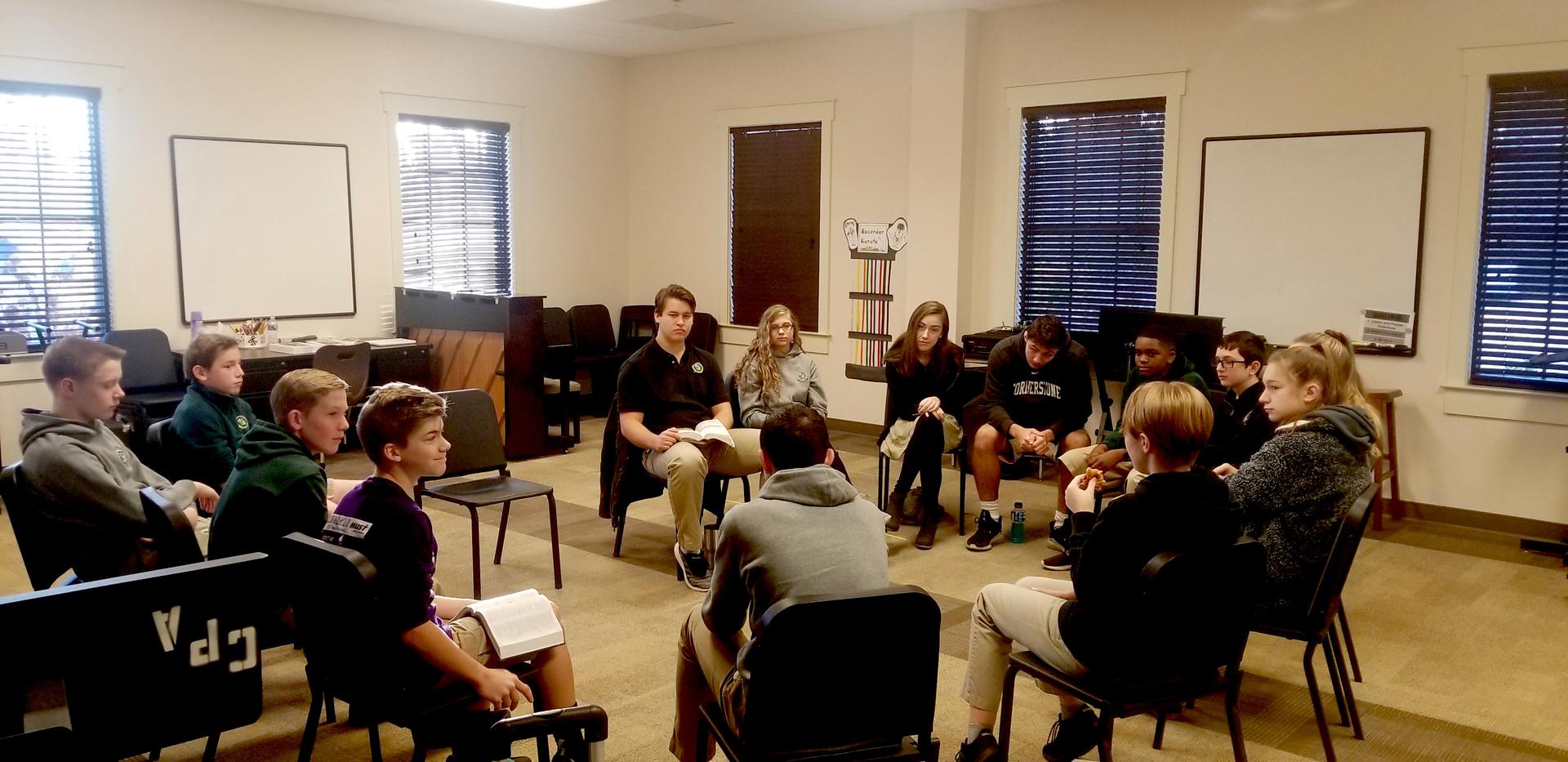 Students Build Faith-Forming Habits
On the first Wednesday of each month, you'll find the music room here at Cornerstone filled with sleepy faces, boxes of donuts, and a growing number of teenagers ready to dig into God's word.

Click below to read how our students are striving to establish a student-led core of believers that worship, learn, and lead together.

At the State of the School we were challenged and reminded by Dr. Glen Schultz of the importance of a biblical worldview and the important role parents have in developing their child's belief system.
While the statistics shared with us last night were alarming and the challenge to stand firm in preparing our children to walk in light of God's Word can sometimes be overwhelming, we are not without hope and help. Our God has promised to guide us (John 16:13) and to be with us (Joshua 1:9). It's our honor to partner with you in this endeavor of training the next generation.
Click here for an in depth description of biblical worldview by Dr. Mulvihill.
Dr. Schultz's Kingdom Education Ministries provides a variety of resources to help educate future generations in line with God's Word.
Cornerstone families have the opportunity for "Prime Membership" with Kingdom Education Ministries at a discounted rate of $15. Click here for instructions on how to receive this discount.
Siblings of current Cornerstone students have priority through Wed, Feb 12.
If you need a sibling application, please contact Director of Admissions Amy Freiler.
Remember, sibling applications received by Wed, Feb 12 at 4 p.m.:
Will be prioritized over applications from the public
Benefit from the $100 reduced registration fee
Attention all ladies and high school girls, don't miss out on this wonderful opportunity to fellowship and dive-in to God's Word together right here at Cornerstone.
A nominal fee of $10 covers Friday dinner, Saturday breakfast, lunch, and snacks during the event.
If you cannot attend the entire event, join us when you can.
Click here for more information.
Please RSVP by this Fri, Jan 31 if possible.
Have questions? Email Mrs. Nguyen


Fri, Jan 31 is a fun, busy day.
5th Friday Dress & Spirit Rally | Follow Schedule D

Shirt, jeans, and shoes of choice. Follow school guidelines.
To hype up your grade and take control of the Spirit Stick, each grade is encouraged (not required) to wear the following themed shirts (no tank tops):

Seniors: America
Juniors: Camouflage
Sophomores: Flannel
Freshmen: Hawaiian
8th Grade: Superhero
7th Grade: Neon

**No other costume pieces allowed**

**BONUS: Get staff to dress up in your theme for extras in your cheering section**

HS Late Night - 3:45 to 8:30 p.m. in the gym (Note the earlier dismissal time.)
MS Dance - 6:30 to 8:30 p.m. in the Den
Class ring packets for rising seniors will be handed out during lunch on Mon, Feb 3. Class ring orders are due during lunch on Mon, Feb 10.
Contact Pastor Nolan with any questions.
Each year, we take our eighth-grade class on a week-long trip to Washington D.C. to learn about the faith and foundation of our country.
Parents and students: join us on Fri, Feb 7, from 7:45-8:15 a.m. in the Den for information about the 2020-21 trip, including dates, itinerary, pricing, etc.
Students will be dismissed at 8:15 a.m. to go to class.
Contact Pastor Nolan with any questions.

We recently received a check for $425.86 from the Publix Partner Program.
Sign up today by clicking on Publix Partners and selecting Cornerstone Preparatory Academy. It's an easy way to support Cornerstone!
Don't forget to enter your phone number at checkout in order for Cornerstone to receive a percentage of the purchase.
We hope you enjoy your car coaster provided in your registration packets!



Our online spirit wear sports store has added The North Face outerwear. Take advantage of 15% off any order of $80 or more now through Fri, Jan 31.

Jan 30 | Grandparents Day

Jan 31 | MS Dance | HS Late Night
Feb 7 | IF:Local for Ladies
Feb 12 | Re-enrollment Deadline
Feb 13 | Elem Daddy Daughter Dance
Feb 17-21 | Winter Break