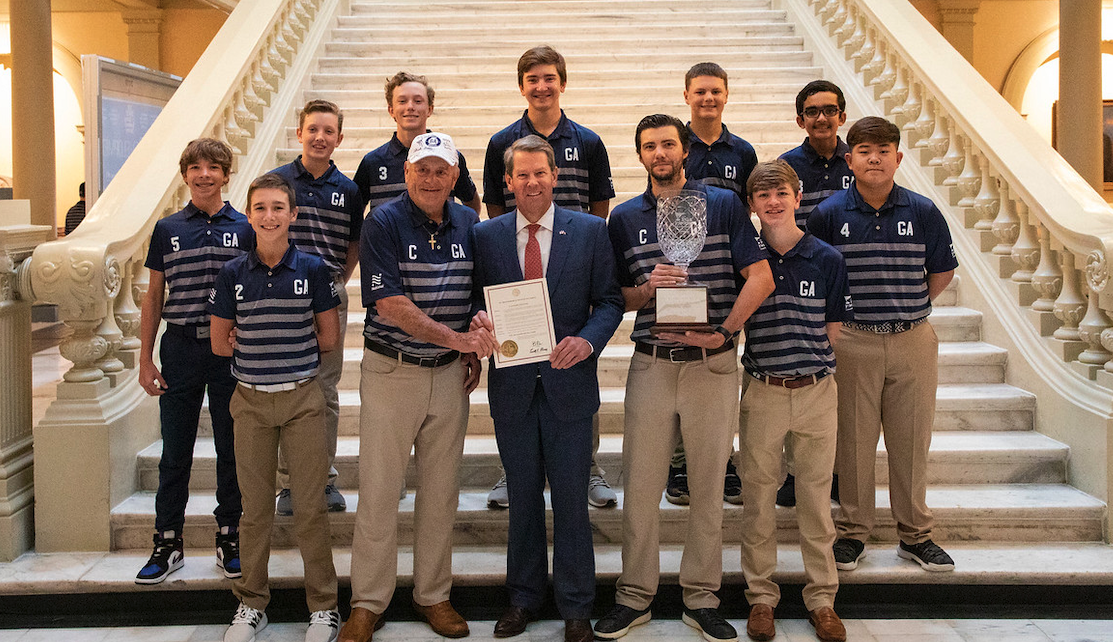 Cornerstone Middle School Student Wins PGA Junior League National Championship
Considered one of golf's major championships for children, the Junior PGA Championship is where the best in the world get their start!

We recently caught up with Cornerstone 8th grade student, JB Knight, to find out more about his love for golf, how he balances his schoolwork, and what it was like to meet Georgia's Governor after a stellar win at the Junior PGA Championship.


PTF next meeting is tomorrow, Feb 6, 8:30-9:45 a.m. in the Den.
Remember there are no fees, and younger siblings are welcome.
Cornerstone elementary girls and their sisters are invited to join us for an evening of dessert and dancing. If dad is unable to attend, a male mentor is welcome to come in their place.
Thu, Feb 13
6:30 - 8 p.m.
Den
Sunday Dress
Contact Pastor Nolan with any questions.
Collection from Tue, Feb 4: $104.18
Our next collection is Tue, Mar 10.
Collection Total to Date: $908.96
We also accept donations through Paypal. Click Here to donate to Cornerstone Cares. Please indicate "cc" in the memo line.

Current juniors interested in purchasing a class ring need to bring their order forms Mon, Feb 10, during their lunch period.
Questions? Contact Pastor Nolan.
Each year, we take our eighth-grade class on a week-long trip to Washington D.C. to learn about the faith and foundation of our country.
Parents and students: join us on Fri, Feb 7, from 7:45-8:15 a.m. in the Den for information about the 2020-21 trip, including dates, itinerary, pricing, etc.
Students will be dismissed at 8:15 a.m. to go to class.
Contact Pastor Nolan with any questions.

For those who were unable to attend our State of School, we celebrated God's faithfulness in this current school year and want you to know what to look forward to for 2020-21.
Tuition
To assist families with fees/costs transparency:

Course catalogs now indicate the semester hours for each course as well as the amount of each course-specific materials/lab/or textbook fee. An "*" identifier beside each course also indicates if there is an additional parent-purchased textbook required.
A cost calculator will provide families with the capability of estimating true cost based on the grade of the student and the course(s) selected. This is currently in beta testing phase, and we hope to roll it out to families in the near future.

The board has approved a $5/semester hour tuition increase. The increased revenue will go to support program services, facility costs, and teacher cost of living increases.
Academics
This spring our 3rd grade standardized testing will be conducted using paper/pencil to provide optimal performance for our younger students. Grades 4-8 will continue with the CTP online testing tool.
We have updated the middle school exam schedule for May 2020. Per parent and teacher feedback, we are eliminating the exam review day and spreading exams out over three days.
We are switching to Saxon Math in K-2, meaning K-5 will all be using Saxon Math in 2020-21.
Technology
Our school will be pursuing a Digital Citizenship Certification as a school-wide initiative. More information to come.
Beginning in August, we will no longer be offering Safe Students Online as a free resource for our families. This is in an effort to expand the capabilities of GoGuardian, a service that provides constant filtering and monitoring on all Cornerstone G Suite accounts, along with providing in-class technology aids for our teachers.
Parents will receive an email in August from Safe Students Online with an option to continue their Bark subscriptions at a discounted rate.
Facilities
The board is currently exploring additional campus enhancements such as a practice field to be placed under the power lines and the possibility of a gym expansion that would allow for a visitor locker room, weight room, and storage.
Each year, Cornerstone competes in an ACSI Spelling Bee. Two of our students will be continuing on to the Regional Bee:
Sara Provost (7) placed first in grade and first in the District Bee
David Archer (8) placed first in grade and fifth in the District Bee
The following students also placed in their grade:
McKayla Bowling (8), 3rd
Lincoln Durity (3), 3rd
Annie Oakes (2), 1st
Madelyn Owens (6), 4th
Cameron Sauiner (1), 4th
Russell Simmons (2), 4th
Click here for a complete list of all our talented ACSI Spelling Bee participants.
Congratulations to our seniors who have been awarded over $1,000,000 in scholarships!
We are excited that 34 our seniors have already been accepted to 40 different colleges. Click here to see where our seniors have been accepted to attend college.



Regional Basketball Tournament | Feb 6-7
Come see your varsity boys play in the Regional Basketball Tournament at Cherokee Christian Academy tomorrow, Feb 6, and Fri, Feb 7!
Thu, Feb 6 at 6:00 p.m. #2 CPA vs. #3 Cumberland
If we win Thu, Feb 6 we will play at 8:15 p.m. on Fri, Feb 7 in the championship game.
If we lose on Thu, Feb 6, we play at 5:15 p.m. in the consolation game Fri, Feb 7.
Congratulations on finishing in 2nd place in the regular season!
2020-21 JV/V Volleyball Meeting | Mon, Feb 10
Parent and player meeting with Coach Holbrook for all current 8th grade through HS students planning to play JV and Varsity volleyball next school year.
Mon, Feb 10
5 - 6 p.m.
Den
State Swim Meet Results Are Impressive!
Congratulations to all of our swimmers on a great season!
A very special shout-out to the students who placed in the top 10 in the State! Click here for a complete list of standings.
Special shout out to Lily Buck (8) and Will Houghton(12) for placing in the top 3 in multiple events. Way to go!
Shotgun Celebrates Their Season
Our Shotgun team celebrated the successful conclusion of their first season by enjoying some good food and a time of shooting on an awesome sporting clay course.
Congratulations to the entire team for being part of the Inaugural Season!
The season is over, but we are already planning for next year:
Coach Edmondson will be having an information meeting after spring break for anyone interested in being a part of the team.
Shotgun will also be opening to middle school students in 2020-21.
Coach would love to field a girls team if there is enough interest.

Feb 7, 2020
2:30 PM - 8:00 PM
Feb 10, 2020
5:00 PM - 6:00 PM
Feb 11, 2020
4:00 PM - 8:00 PM
Feb 7 | IF:Local for Ladies
Feb 12 | Re-enrollment Deadline
Feb 13 | Elem Daddy Daughter Dance
Feb 17-21 | Winter Break

Mar 3-26 | Standardized Testing, grades 3-8
Mar 4 | IMPACT Parent/Student Meeting
Mar 14 | Vision Arts Showcase/A Cappella Concert
Mar 17 | Grade 5-6 Field Trip
Mar 26 | Mother Son Game Day
Mar 30-Apr 3 | IMPACT