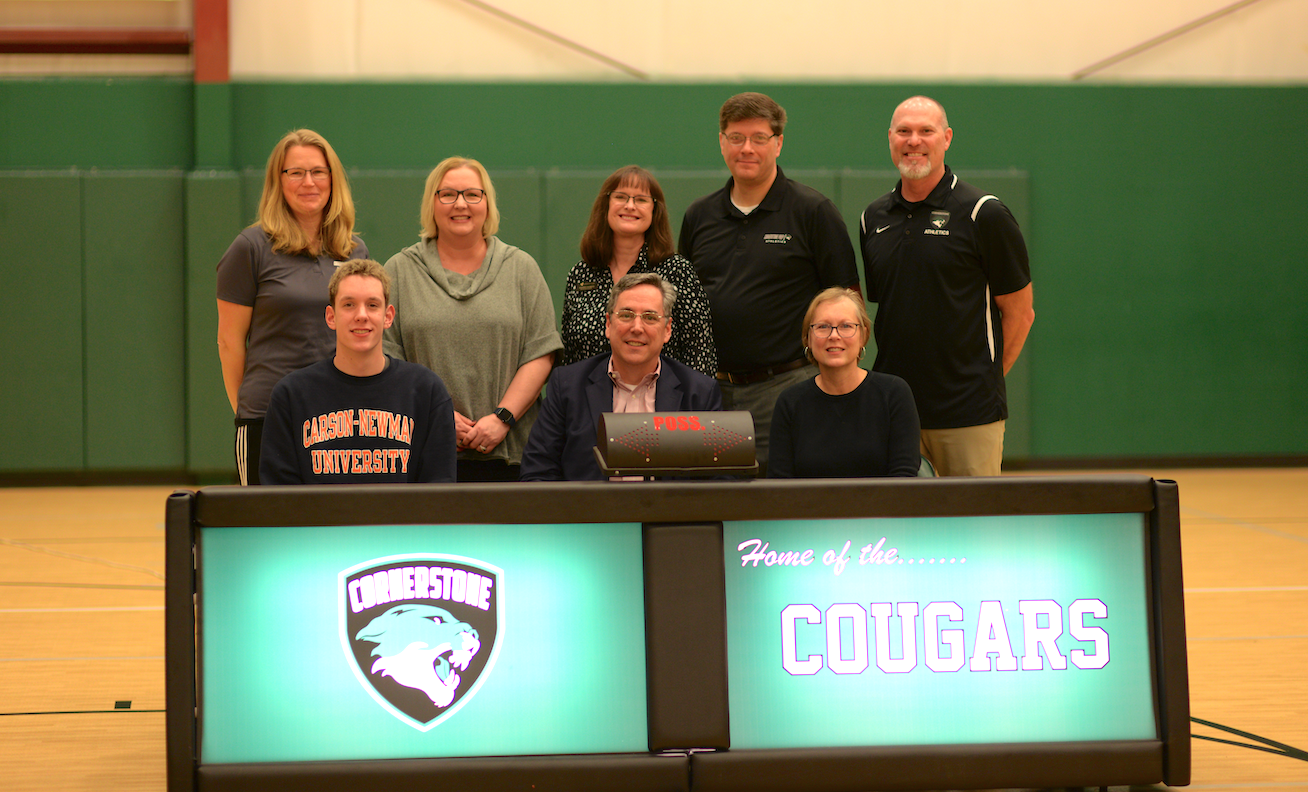 Cornerstone Student-Athlete Signs To Swim For Carson-Newman University
Cornerstone senior, William Houghton, has been swimming for nearly as long as he can remember, and even after his senior year on the Cornerstone swim team comes to a close, his competitive career won't be finished yet. Houghton has officially signed to join the team at Carson- Newman University in Jefferson City, Tennessee this fall.


Cornerstone elementary girls and their sisters are invited to join us for an evening of dessert and dancing. If dad is unable to attend, a male mentor is welcome to attend in their place.
Thu, Feb 13
6:30 - 8 p.m.
Den
Sunday Dress
No reservation required
Contact Pastor Nolan with any questions.
Thank you, Cornerstone grandparents and families. We set a goal of $4,000 for our Scholastic Book Fair during Family Week. Sales were over $5,300!
Thank your for your support of our school.

Who can participate in an internship program and what are the benefits?
Students currently in grades 10 and 11 may participate in 2020-21
Internships earn 0.5 credit per semester
Internships provide the opportunity to gain hands-on work experience, an edge when applying for college, and a better understanding of the professional world
What are the general requirements?
Attend Mrs. Cosgrove's meeting on Fri, Mar 6, 7:40 to 8:15 a.m. in B-123. Parents are encouraged to attend with their students.
Internships include a total of 75 hours of commitment per semester.
Internships can be secured through the school (on campus) or independently (off campus) in the community.
What are some on-campus internship opportunities?
IT Department
Student Life
Athletics
Fine Arts
Attend the Fri, Mar 6 meeting to learn more.
Mark your calendar for the MANDATORY IMPACT 2019-20 parent meeting on Wed, Mar 4, at 7:45 a.m. where you will receive a detailed itinerary for the week as well as sign waivers.
Contact Mrs. Conrey with any questions.

For the first time in Cornerstone history our varsity boys have played in a State Playoff game and hosted the first round of the tournament at home.
Our Varsity boys basketball team advances from the Sweet Sixteen with their 86-66 win over Peachtree Academy to the Elite Eight!
We will play in the Elite Eight this Sat, Feb 15, against Community Christian at Central Georgia Tech in Macon at 7:00 p.m. Go, Cougars!



2020-21 JV/V Volleyball Meeting | TODAY
Parent and player meeting with Coach Holbrook for all current 8th grade through HS students planning to play JV and Varsity volleyball next school year.
TODAY, Feb 12
5 - 6 p.m.
Den
Sideline Cheer Celebrates Season
Sideline cheer celebrated their season with every cheerleader earning their first Cornerstone letter and/or their subsequent cheer pin.
Character Awards:
Erica Bolding: Boldness
Reese Galat: Honesty
Riley Galat: Encouraging and Flexibility
Isabel Hicks: Loyalty
Jill McCauley: Determination
Ruby Jo Saing: Compassion
Amanda Smith: Kindness
Kaitlyn Stenger: Perseverance

Feb 12, 2020
5:00 PM - 6:00 PM
Den
Feb 15, 2020
7:00 PM - 8:30 PM
Central Georgia Technical College, 3300 Macon Tech Dr, Macon, GA 31206, USA
Feb 12 | Priority Re-enrollment Deadline
Feb 13 | Elem Daddy Daughter Dance
Feb 17-21 | Winter Break

Mar 3-26 | Standardized Testing, grades 3-8
Mar 4 | IMPACT Parent/Student Meeting
Mar 14 | Vision Arts Showcase/A Cappella Concert
Mar 17 | Grade 5-6 Field Trip
Mar 19 | Mother Son Game Day
Mar 30-Apr 3 | IMPACT