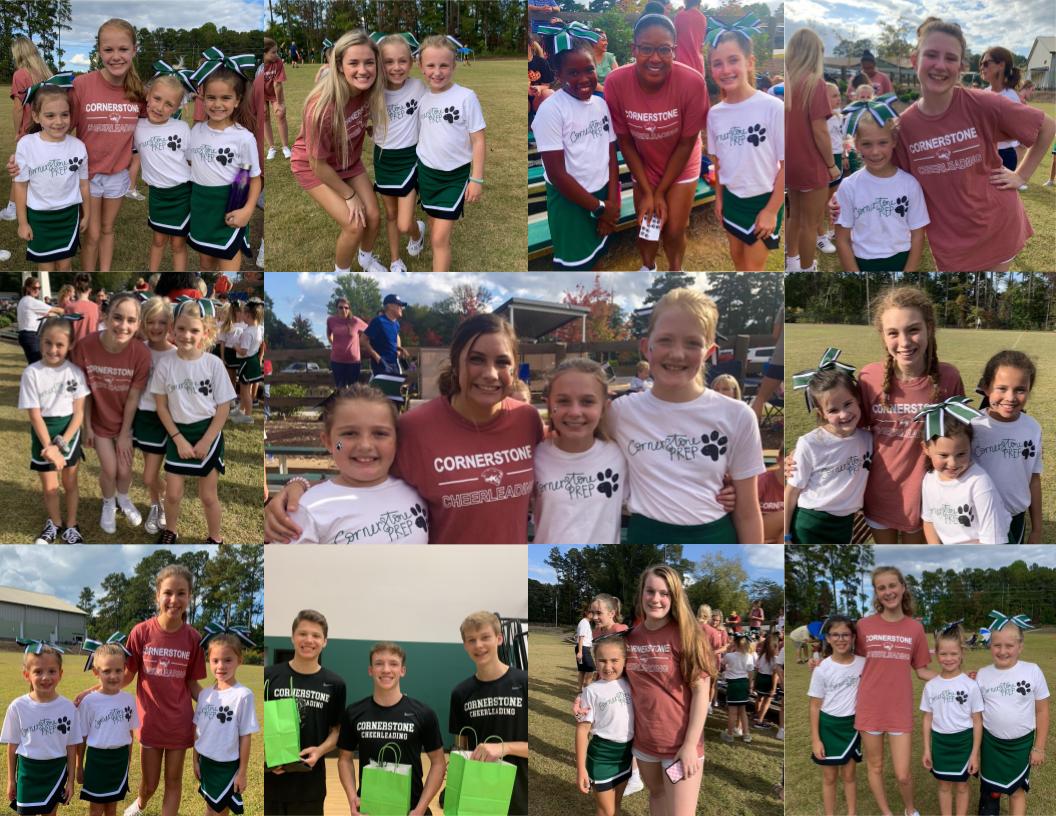 Cornerstone Cheer Buddy Program Builds Each Other Up
In the middle of a difficult 2020, how could Cornerstone families focus on building each other up? In response to this question, the 2020 pilot "Cheer Buddy" program was launched.
Click below to read how this pilot program is cultivating relationships among our student-athletes.


Be on the lookout. Elementary class pictures will be sent home with students tomorrow, Oct 29.
Thursday, Oct 29, will be Jammies or Jersey and Jeans Day for our elementary students! Students may take their pick of pajamas or jeans with their favorite jersey.
Jammies Dress Code:
Shirts must have sleeves, no tanks or sleeveless shirts
School appropriate shoes, no house slippers
Gowns must be knee-length or longer with leggings underneath
No short sets
Seniors wear jeans and senior shirt as usual.
The NED Show is a character education program that centers around three important messages that have lifelong relevance:
Never give up
Encourage others
Do your best
Students will learn about the importance of these three life skills while also enjoying storytelling, magic, humor, and yo-yo tricks.
This will be a virtually combined chapel, and we will follow Schedule C.
Note: Yo-yos will be on sale during Nov 5-19 at lunch to help pay-it-forward for another school to benefit from a NED assembly.

Since we missed out on Homecoming Week special dress, Student Life has chosen to have the 5th Friday Special Dress be themed. High school dress will be a designated theme for each House.
Please keep in mind this is a Student Life dress day not linked to Halloween. Theme dress is NOT full costumes. The special dress refers to your shirt and accessories, jeans must be worn. Follow the theme designated for your grade/house.
All Middle School: Hawaiian/Luau Theme
HS house council leaders have chosen the following themes:
Blue - Disney (not Marvel)
Green - Sports Teams/Jerseys
Red - 70's/Hippy
Orange - Awesome 80's
Silver - Tourists
Purple - Superheroes
Turquoise - Roaring 20's
Yellow - USA
Please pray for our 7th graders enjoying and learning while immersed in the outdoors in the Great Smoky Mountains.
Students return tomorrow, Oct 29, around 4:30 p.m.
We are excited to have our middle schoolers serving other children through Operation Christmas Child. Please click here to read complete details regarding this special Student Life ministry opportunity.
Important Dates:
Filled shoeboxes are due Wed, Nov 11
Special Gathering on Fri, Nov 13 related to shoebox drive
If we meet our 100 Christmas box goal, we will celebrate with an Ice Cream Bar at lunch on Fri, Nov 13
If you do not have a middle school student, you are still welcome to participate and help us reach our goal by donating a filled shoebox or funds to fill and ship boxes.
If you have questions or comments please email Windy White or Pastor Nolan.

Congratulations, GAPPS Volleyball All Stars!
Congratulations to the following athletes for being selected to represent Cornerstone and play in the Volleyball All-Star Game on Sat, Oct 31.
Tessa Jamieson, 12
Madelyn Orton, 11
Meredith Orton, 11
Avery Paine, 12



Basketball Theme Nights for November
Get ready to celebrate our basketball teams by dressing in the following themes at upcoming games. Remember, students attend games for free. See you there!
Fri, Nov 6, vs Shiloh Hills | America Out
Sat, Nov 7, vs Unity Christian | White Out
Fri, Nov 20, vs Praise Academy | Hawaiin/Tacky Tourist
Mon, Nov 30, vs Trinity Prep | Gold and Silver Out

Oct 30, 2020
4:00 PM - 9:00 PM
Shiloh Hills Christian School, 260 Hawkins Store Rd NE, Kennesaw, GA 30144, USA
Oct 31, 2020
6:30 AM - 11:00 AM
2829 Cherokee St NW, Kennesaw, GA 30144, USA
Oct 27-29 | 7th Grade Tremont Field Trip
Nov 12 | PTF Meeting
Nov 13 | Heartbeat Worship Night
Nov 23-27 | Thanksgiving Break
Dec 3 - 5 | Musical Theatre Performance
Dec 10 | PTF Meeting
Dec 14-18 | Secondary Final Exams
Dec 17 | Elementary Last Day Fall Semester, 2 p.m. Dismissal
Dec 18 | Secondary Last Day Fall Semester
Dec 21 - Jan 1 | Christmas Break