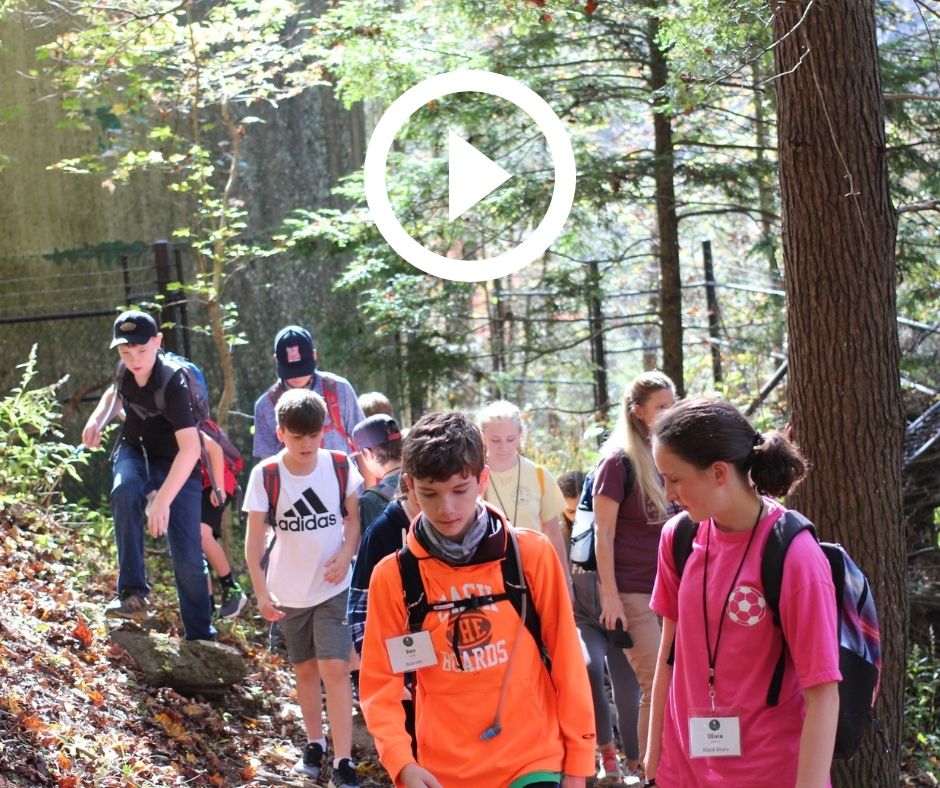 Nature's Classroom- Cornerstone Students Experience A Smoky Mountain Getaway
Last week Cornerstone 7th graders visited the Great Smoky Mountains Institute at Tremont for a three-day educational wilderness adventure.
It was a wonderful experience of learning and fun, and we're happy to share this short video with you from our time there.

Thanks to those who have already donated. We are getting close to our 1,200 items goal!
Leave your donations by Fri, Nov 6, in the designated "Donation Barrel" in the school lobby.
Please donate any of the following unexpired items:
Canned vegetables (beans, corn, green beans, tomatoes)
Beef stew
Canned meats (chicken, tuna, ham)
Chunky or condensed soups
Canned fruit or fruit cups
Mac and Cheese boxes
Pasta
Canned pasta
Spaghetti sauce with meat
Chili
Rice
As of Wed, Oct 21, ParentsWeb (FACTS) has fixed the payment issue.
Going forward, you may use Chrome, Firefox, or Safari when ordering lunches and making payments. Thank you for your patience as FACTS corrected the issue.
Please make plans to join us in the Den on Thu, Nov 12, 8:30 - 9:45 a.m. We will hear from First Baptist Woodstock, Austell Campus Pastor JJ Washington on racial reconciliation from a biblical perspective.
Light snacks will be provided
Younger siblings welcome (and dads and grandparents)
Masks required
If you are unable to join us in person, join us virtually via Zoom:
Looking Ahead: We will share LOTS of laughs, as we hear from Christian comedian and Cornerstone dad Kenn Kington in our Thu, Dec 10, meeting.



Elijah Purcell (7), has been saving his money from dog-sitting for the neighbor and birthday money for years. Rather than spending it on himself, he chose to share "The Light of Life" (John 8:12).
Last Monday, he approached his mom and explained that his school was collecting food for neighbors in need through MUST Ministries.
Elijah's "Kiki," Kaye Cagle, is a director for MUST, and he knows what important work they do. He has also heard of the drastically increased need for food due to COVID-19.
He and his mom reached out to the Barrett Pavilion Aldi store manager about the current limitations on purchasing canned food. The manager was fantastic and wanted to help get a larger donation to MUST.
Elijah ordered the maximum amount of 200 cans of chili with his own money and set up the pickup date to help load the cans.
Please join Elijah by donating to the food drive. We are still accepting donations through Fri, Nov 6.



Basketball Theme Nights for November
Get ready to celebrate our basketball teams by dressing in the following themes at upcoming games. Remember, students attend games for free. See you there!
Fri, Nov 6, vs Shiloh Hills | White Out
Sat, Nov 7, vs North Kissimmee | Hawaiian/Tacky Tourist
Fri, Nov 20, vs Praise Academy | Neon Out
Mon, Nov 30, vs Trinity Prep | Gold/Silver Out

Nov 12 | PTF Meeting
Nov 13 | Heartbeat Worship Night
Nov 23-27 | Thanksgiving Break
Dec 3 - 5 | Musical Theatre Performance
Dec 10 | PTF Meeting
Dec 14-18 | Secondary Final Exams
Dec 17 | Elementary Last Day Fall Semester, 2 p.m. Dismissal
Dec 18 | Secondary Last Day Fall Semester
Dec 21 - Jan 1 | Christmas Break