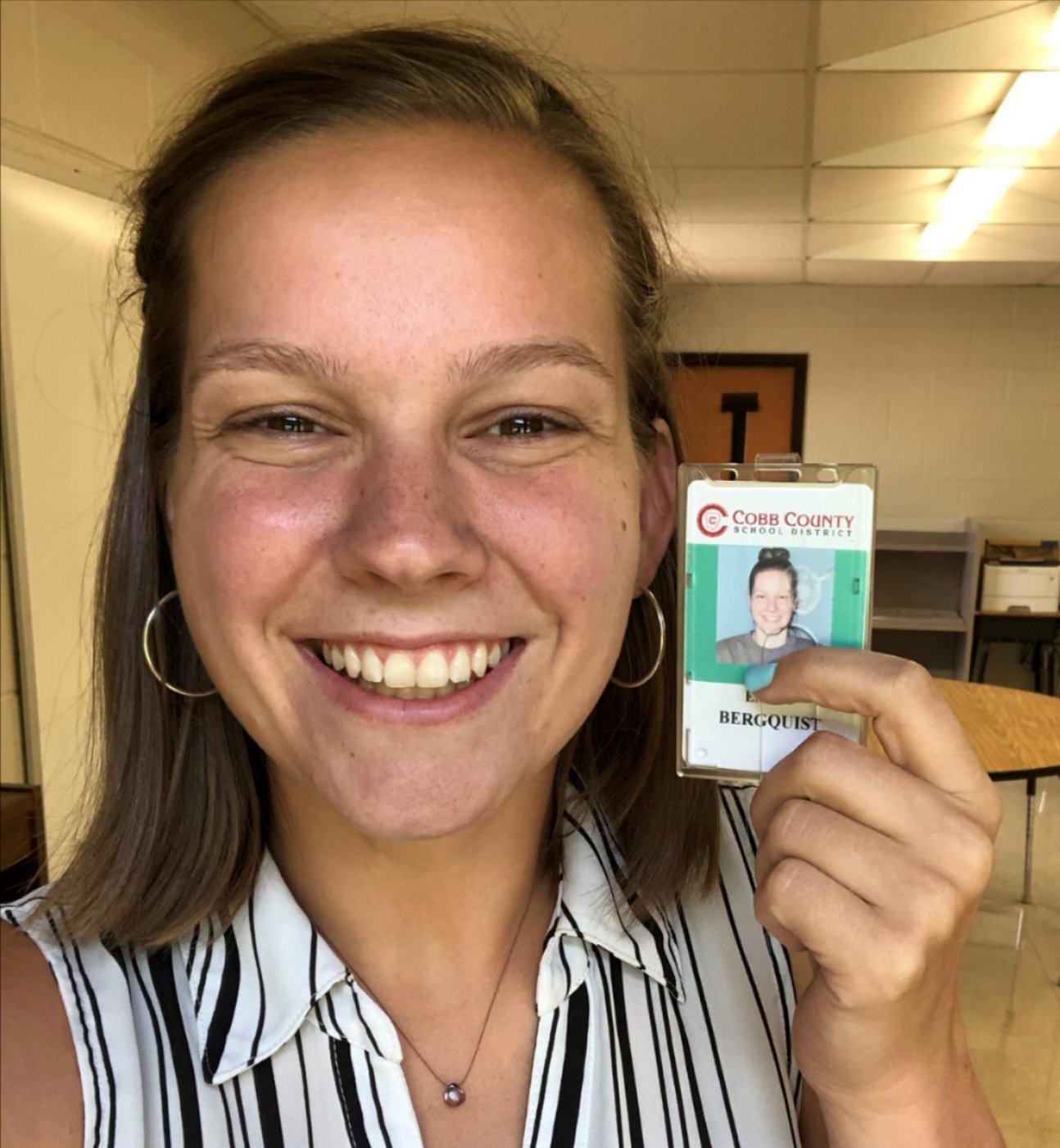 Cornerstone Alumna Creates Innovative Way to Engage the Next Generation
Cornerstone alumna and first-year teacher Emily Bergquist knew that teaching remotely during a pandemic would have its challenges. Click below to read about the creative lessons she's developed to engage with and relate to her students.


Please remember to send your students with jackets/sweaters for recess. If the temperature is 40 degrees or above, we typically go outside.
Also, we ask that you label all jackets and outerwear. All unlabeled items get donated at the end of each month.


Thank you for your generosity! You donated 774 food items to MUST Ministries. Beta Club has already delivered your donations to MUST to help those in our community.
Cornerstone parent and local artist Amy Cobb was a guest speaker in one of our recent high school art classes. She shared that the main source of inspiration for her artwork is her faith in Christ Jesus.
The birds of the air are frequently the subject matter of her work as she reflects on Matthew 6:26. This verse reminds her of the love that our Creator has for the least of His creatures, bringing freedom, hope, and rest.
Mrs. Cobb also shared that using her gifts in art has created opportunities for her to talk about her faith with others. See her work at #seedsoffaithhopelove or click here.



Cheer Awarded Grand Champion
Cornerstone's competition co-ed cheer squad competed at their first competition, FCC Atlanta Classic Competition, and placed first in their division and Grand Champion of all the schools.
Special Shout Out:
Jocelyn Cowart, 8, 1st in Tumble Jam
Lilli Pascoe, 11, 1st in Jump Jam
Go, Cougars!
Flag Football Season Wrap Up
Congratulations, Warriors!
The final championship was Lions vs. Warriors with the Warriors winning in overtime.
Character Award Winner recipient was Reed Morgan, 5, for being such a good Christian example of sportsmanship for all of his fellow football players.
Season MVPs:
Cruz Abelita, 6 | Warriors
Vincent Ramsey, 6 | Stars
Madden Ruplin, 6 | Lions
Henry Speer, 6 | Eagles
Shotgun Team Places Third
Shotgun celebrated placing third with a score of 198 at their Nov 6 meet!
We are very proud of these athletes. Cornerstone's shotgun team is only in its second season and brought home a third place trophy in their fifth ever meet since beginning the sport.
Special shout out to Sophomore Luke Jansick, 10, who scored the individual team high of 80.
Basketball Theme Nights for November
Get ready to celebrate our basketball teams by dressing in the following themes at upcoming games. Remember, students attend games for free. See you there!
Fri, Nov 20, vs Praise Academy | Neon Out
Mon, Nov 30, vs Trinity Prep | Gold/Silver Out

Nov 12 | PTF Meeting
Nov 13 | Heartbeat Worship Night
Nov 23-27 | Thanksgiving Break
Dec 3 - 5 | Musical Theatre Performance
Dec 10 | PTF Meeting
Dec 14-18 | Secondary Final Exams
Dec 17 | Elementary Last Day Fall Semester, 2:30 p.m. Dismissal (Schedule I)
Dec 18 | Secondary Last Day Fall Semester
Dec 21 - Jan 1 | Christmas Break