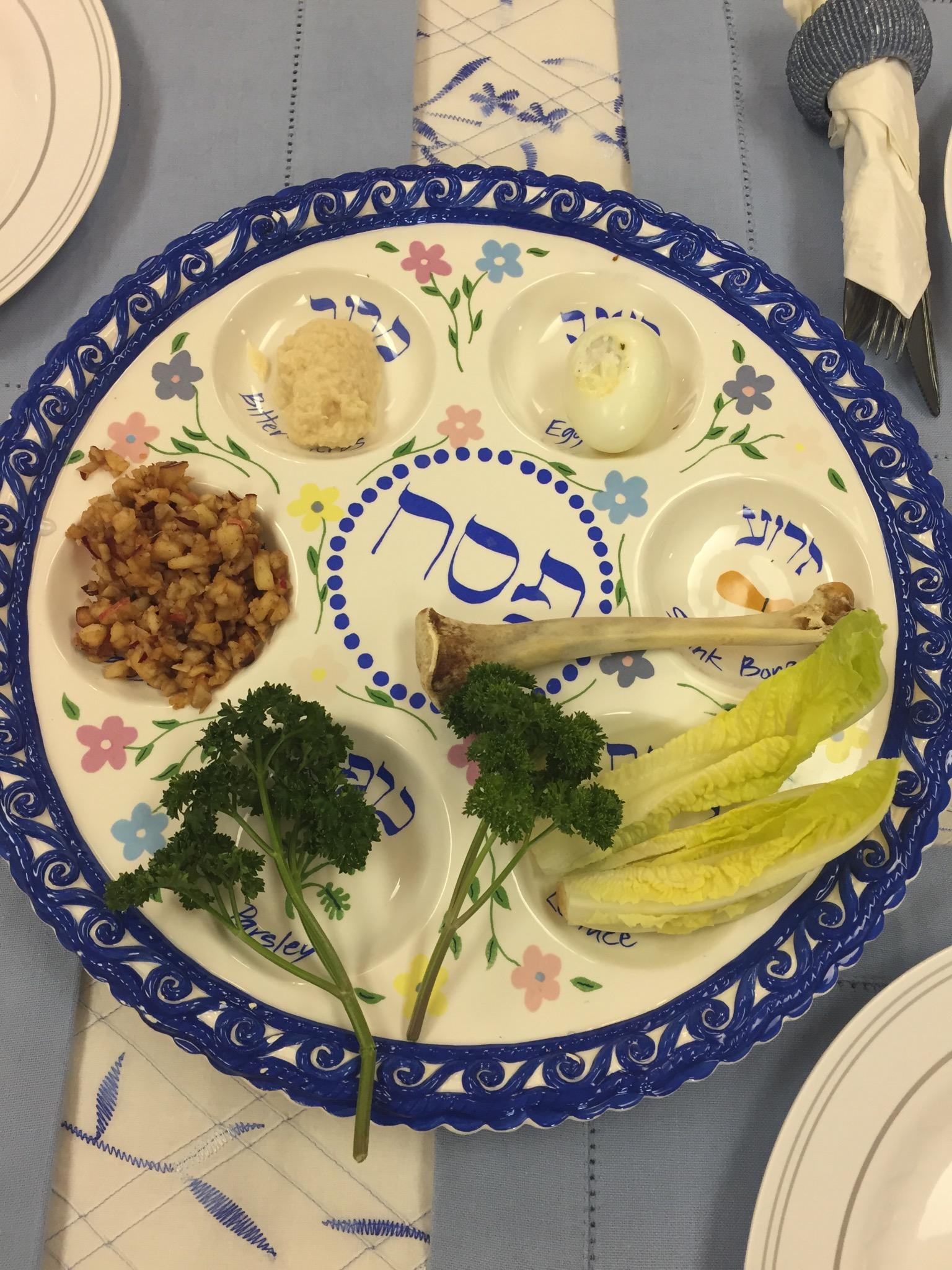 Passover, More Than a Religious Observance
Every spring, in Jewish homes all around the world, families gather together to celebrate Passover which begins this year on the evening of March 27, and runs through the evening of April 4th.
Each family has their own unique Passover traditions, so we asked secondary Cornerstone parent, Sheri Sands and family, to share how they prepare for Passover and open up their home for a joyous feast!


There will be no Chapel tomorrow, Mar 25, however, students may still wear their chapel shirt and blue jeans. Please follow the regular schedule.

HS students may turn in their required 2020-21 Community Service Hours using the button below.
The College Board PSAT/NMSQT and PSAT 8/9 printed score reports are being distributed throughout the week.
Grades 10/11 distribution: Mon, Mar 22 & Wed, Mar 24
Grade 9 distribution: Wed, Mar 24 & Fri, Mar 26
High School Alternating A/B On-Campus Schedule*
March 22-26 | B (Mon) - A (Wed)- B (Fri)
*This schedule does NOT affect the middle school.
Important Reminders
UPDATE: Parents, the majority of students are doing an excellent job following the online classroom etiquette guidelines. We did want to let you know that students received an email Tue, Mar 16, reminding them of the importance of meeting these expectations and the possibility of receiving a 5 point deduction on graded assignments for that day if these guidelines are not met. We truly appreciate our students approaching an at-home learning day with the same attitude as an on-campus day. Thank you.
Tue/Thu classes show up, as usual, with no alternating schedule.
No Student Life Clubs will take place.
Athletics will continue.
Fri, Mar 26 | IMPACT | Group A (At-Home Learners) will attend IMPACT virtually | Schedule B
Pre-ordered March 15-26 lunches that fall on HS students' at-home learning days will be refunded at the end of March.
We are excited to have Student Pastor, Matt Doane, from Wildwood Baptist speak to our middle school students this Fri, Mar 26. Follow Schedule B.
Virtual Fair Dates
West + Southwest | Tue, Mar 30* | 5 - 9 p.m.
Midwest | Sun, Apr 18* | 4 - 8 p.m.
Southeast | Thu, Apr 29* | 5 - 9 p.m.
*Dates subject to change by College Board.
We hope students will take advantage of this informative free resource as well as qualify for a Special Dress Day (Mon, May 10) and a chance to win a $50 gift card to fansedge.com. The winner of the gift card will be announced in the Chronicle Wed, May 12.
Students need to submit their completed form by Mon, May 3.
Click here to learn more and register for College Board Big Future Days.
Competition Cheer Info for Fall 2021
Important upcoming dates for any rising girls or boys in grades 7-12 interested in being a part of the competitive cheer team. Please email the coach if you have any questions.
Parent Information Meeting | Wed, Apr 14 | 4 p.m. | B120
Clinic | Mon, May 3 | 4 - 6 p.m. | Gym
Clinic | Wed, May 5 | 4 - 5:30 p.m. | Gym
Tryout | Fri, May 7 | 4 - 6 p.m. | Gym
Important Volleyball Info for Fall 2021
Calling all girls in rising grades 7-12 interested in playing volleyball in the fall!
Important Dates:
Parent Info Meeting for MS, JV & V | Fri, Apr 16 | 4 - 5 p.m. | Den
Open Gyms | Fri, Apr 16 & Fri, Apr 30 | 5 - 7 p.m. | Gym
Varsity Tryouts | Mon, May 10 & Tue, May 11 | 4 - 6 p.m. | Gym
Shotgun Info Meeting for Fall 2021
Shotgun is open to all rising 7 -12 students, boys and girls, regardless of experience.
If your student is interested in participating in this sport, please attend a parent interest meeting on Mon, Apr 19, at 4 p.m. in the Den. Please email Scott Edmondson with any questions.
We are excited to announce a few details about Prom 2021:
Location: Tanyard Creek Overlook | Acworth
Date & Time: Fri, May 21 | 6 - 9 p.m.
Cost: $65 per person | Includes Sit-Down Dinner
Tickets On Sale: Mon, Apr 26 - Fri, May 7
Click here for the Guest Form

Golf Team Refuses To Lose
Our golf team beat Kings Academy on Thu, Mar 18, by 33 strokes! This is their 2nd win in a row after beating Lyndon Academy by 54 strokes. Go, Cougars!!
This year our 5th-8th graders did not travel off-campus and compete with other schools for the annual ACSI 5th-8th spelling bee. Instead, we held an in-house bee and invited our 1st-4th grade spelling bee top placing students to watch the older students compete.
Congratulations to our top 5 Cornerstone Spelling Bee winners:
1st Place - Cooper Goodson, 7
2nd Place - Mac Shirley, 8
3rd Place - Matthew Melcher, 7
4th Place - Jaden Ramlogan, 8
5th Place - Simeon Greene, 7
Click here to see the list of top 4 spellers in grades 1-8.



Mar 25, 2021
2:30 PM - 4:00 PM
Terrell Mill Park, 480 Terrell Mill Road SE, Marietta, GA 30067, USA
3:30 PM - 5:30 PM
Governors Towne Club, 4545 Champions Walk Dr, Acworth, GA 30101, USA
4:00 PM - 5:30 PM
Cornerstone Preparatory Academy, 3588 Hickory Grove Rd NW, Acworth, GA 30101, USA
Mar 9- Apr 1 | Standardized Testing, grades 3-8
Mar 29-Apr 2 | IMPACT
Apr 1 | PTF
Apr 5-9 | Spring Break
Apr 20 | Elem Mother Son Game Day
Apr 22 | PTF Meeting
Apr 23 | MS Dance & HS Heartbeat Worship
Apr 29 - May 1 | Musical Theatre Presents Madagascar
May 10-12 | Senior Exams
May 17 - 21 | Secondary Final Exams
May 13 | Graduation Reception
May 15 | Graduation Ceremony
May 20 | Elem Field Day
May 21 | Prom
May 31| Spring Report Cards Released