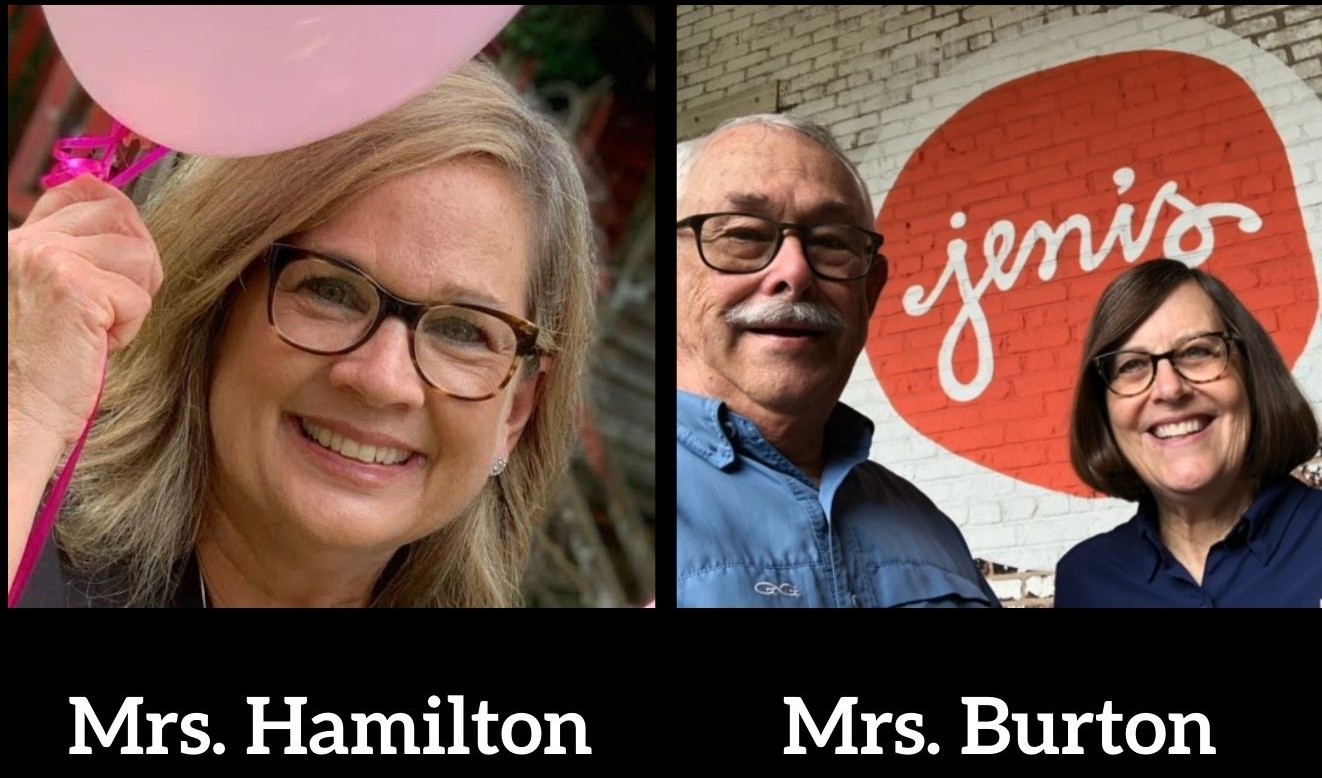 Former Cornerstone Principals Are Richly Blessed During Retirement
It's been three years since Mrs. Hamilton and Mrs. Burton welcomed us onto campus and filled our hallways with their presence. In 2018, they both followed God's leading and retired from Cornerstone, stepping right into their next adventures!
We had a chance to catch up with them recently to find out how they're filling their days during retirement.

Any items not picked up by 2 p.m. will be donated.
**There are a lot of water bottles with names on them. We do not donate these. Please check out Lost & Found.**
If you have lost a valuable item (jewelry, calculator, etc), please check with the front desk.
Due to the inclement weather on Thu, Mar 18, the PTF meeting has been rescheduled for tomorow, Apr 1.
Elementary and secondary parents, please make plans to join us in the Den Thu, Apr 1, 8:30 - 9:45 a.m. or virtually through Zoom.
For the Thu, Apr 1, meeting:
Cornerstone parent, Megan Caskey, will speak about "18 Summers". She will share great ideas and help us plan ahead to get the most out of the eighteen summers we have with our children.
Landon Cunningham, director of IT & AV, will be present to answer your questions on internet safety and teaching safe usage to our students.
If you are unable to join us in person, join us virtually via Zoom:
Looking Ahead to Apr 22: Daniel Hoover (executive pastor of North Star Church) and his wife Bonnie will be sharing "The Marriage Adventure Challenge" they created last year. As parents of two elementary students, the Hoover's will share the importance of a strong marriage foundation, rooted in Jesus Christ. We will also begin collecting for National Teacher Appreciation Week. More information to come.
Please be aware that students traveling internationally (including cruises) will be required to self-quarantine upon return to the country for a minimum of 7 days before returning to school on campus. If any COVID-19 symptoms occur during that 7-day post-travel quarantine period, the student's out-of-school quarantine will be extended.
Please notify your child's principal in advance if your family has international travel plans.
"As surely as the sun rises, he will appear; he will come to us like the winter rains, like the spring rains that water the earth." Hosea 6:3 (NIV)
Enjoy your spring break next week!
Competition Cheer Info for Fall 2021
Important upcoming dates for any rising girls or boys in grades 7-12 interested in being a part of the competitive cheer team. Please email the coach if you have any questions.
Parent Information Meeting | Wed, Apr 14 | 4 p.m. | B120
Clinic | Mon, May 3 | 4 - 6 p.m. | Gym
Clinic | Wed, May 5 | 4 - 5:30 p.m. | Gym
Tryout | Fri, May 7 | 4 - 6 p.m. | Gym
Important Volleyball Info for Fall 2021
Calling all girls in rising grades 7-12 interested in playing volleyball in the fall!
Important Dates:
Parent Info Meeting for MS, JV & V | Fri, Apr 16 | 4 - 5 p.m. | Den
Open Gyms | Fri, Apr 16 & Fri, Apr 30 | 5 - 7 p.m. | Gym
Varsity Tryouts | Mon, May 10 & Tue, May 11 | 4 - 6 p.m. | Gym
Shotgun Info Meeting for Fall 2021
Shotgun is open to all rising 7 -12 students, boys and girls, regardless of experience.
If your student is interested in participating in this sport, please attend a parent interest meeting on Mon, Apr 19, at 4 p.m. in the Den. Please email Scott Edmondson with any questions.
We all celebrated the recent CDC update that allowed for a reduction in the physical distance in classrooms from 6 feet to 3 feet. It seems, however, that our celebration was a bit premature.
The most recent guidelines from the Cobb/Douglas Department of Public Health still require that all schools use the six feet for 15 minutes rule when conducting any close contact tracing.
We continue to closely monitor any updates in guidelines for schools and are encouraged that we are still able to enjoy face to face instruction. This is not a blessing that is taken for granted. Just a few weeks to go until summer.

We are in need of an Elementary Jr. Cross Country coach for the fall 2021-22 season.
The official season is August - October
Athletes will prepare to run 1-1.5 miles.
Meets are scheduled Saturday mornings during the official season.
Practices will meet and train on Tue/Thu 4 - 5 p.m., here at CPA.
Please contact Coach Campbell for more details.


HS students may turn in their required 2020-21 Community Service Hours using the button below.
IMPACT teams are both academic-related and mission-related as students make real life connections between their faith and classroom learning.
We would appreciate prayers as our high school students go out to "lead, learn, and serve outside of our classroom walls" for IMPACT, Mar 26 - Apr 2.
Click here to see the various teams and read student blogs.

Girls' Soccer Continues To Win
The girls' soccer recent wins against Cherokee Christian (2-1) and Johnsons Ferry (2-1) have brought them to a 3-3 season. Go, Cougars!



Mar 9- Apr 1 | Standardized Testing, grades 3-8
Mar 29-Apr 2 | IMPACT
Apr 5-9 | Spring Break
Apr 20 | Elem Mother Son Game Day
Apr 22 | PTF Meeting
Apr 23 | MS Dance & HS Heartbeat Worship
Apr 29 - May 1 | Musical Theatre Presents Madagascar
May 10-12 | Senior Exams
May 17 - 21 | Secondary Final Exams
May 13 | Graduation Reception
May 15 | Graduation Ceremony
May 20 | Elem Field Day
May 21 | Prom
May 31| Spring Report Cards Released