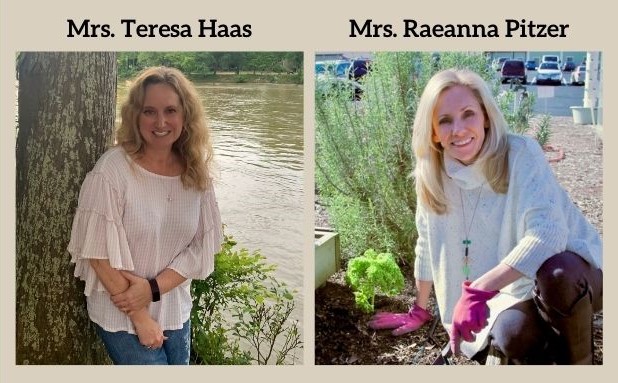 A New Season for Two Beloved Cornerstone Teachers
School is almost out for the summer! As beloved Cornerstone teachers, Mrs. Haas and Mrs. Pitzer near the end of this unique school year, they announced this would be their final academic year of their respective careers and a combined 22 years in the classroom.


All K-6 grades will be present for this special chapel celebrating our 6th graders "moving on up" to middle school. This will be a special time for us to gather and recognize each of our students with a Character Trait certificate and see a slideshow presentation of our 6th graders.
Tue, May 18 | 9:15-10:15 a.m.
Follow Schedule L
Held in the Cornerstone Gym and shared live stream on our Facebook page
Sixth grade parents, we strongly recommend you arrive no later than 9 a.m. to secure a seat. We will be taking temperatures upon arrival. Please wear a mask unless you are seated.
Lunch will be provided for the sixth grade students on Tue, May 18. Look for an email from Mrs. Daniel for more details about this lunch.
During the chapel, we will have a photographer to take photos of each student. Those photos will be uploaded to a Google Drive folder and shared with you after the chapel.
6th Grade Student's Attire | "Sunday" dress | No jeans or shorts | Boys must wear collared shirts
Grades K-5 | Wear regular chapel shirt and jeans
Attention rising seventh graders, this November, Mr. Cunningham will be leading our annual 7th grade trip to the Tremont Institute in the Great Smoky Mountains National Park in Tennessee for the third time.
Please click here to view the complete invitation. The registration form is due Mon, May 17. Please note, there is a $350 cost per student to participate in this trip.
Can't wait for Field Day (and the last day of elementary school) on Thu, May 20! Here is what you need to know:
Follow Schedule J
Students

Apply sunscreen before arriving at school
Will get wet so bring a towel for pickup
Wear water or tennis shoes that you don't mind getting wet, no flipflops
Wear chapel shirt and modest shorts
Bring a water bottle

Drop off is 8-8:20 a.m. at the field

Parents that are not staying for Field Day, please park and walk your student to the field
Students will go to their first-period teacher waiting on the field
Students who do not have a first-period class will report to Pastor Nolan on the field

Pick up is 12 p.m. at the field

Parents will need to park and walk to the field to pick up their students

No lunch on Field Day but Kona Ice will be here
Parents are welcome to stay and watch. If you would like to volunteer to help on Field Day, please sign up below
Sign Up Here to Volunteer. Only a few slots left!


The CPA Golf Team put together their season's best scores while rolling over previously undefeated Konos Academy by 25 strokes at Eagles Landing Country Club: breaking the school record (twice), and becoming State Champions!
"The guys knew what they had to do and flat out executed with mental toughness and a strong desire to win. I couldn't be more proud of their efforts. They peaked at exactly the right time! We're excited to bring the Championship Trophy and banner back to Cornerstone", said Coach Burger. With half the team being new this year, they came together and declared two goals at the beginning of the season: Win State and break the school record.
While golf is generally considered an individual sport, team golf is so much more fun because the players come together to win. The players commit hundreds of hours each year to the sport. All of that hard work and determination came together at the State Tournament, finishing with an undefeated season, a State Championship, and the school golf record on 9 and 18 holes. Congratulations! Go, Cougars!
The 2020-21 Cornerstone Team:
Collin Burger, 12 (6 years on the team)
Cooper Goodson, 9 (1st year)
Jackson Hope, 9 (3rd year)
JB Knight, 9 (2nd year)
Robert Philbeck, 7 (1st year)
Braden Rhein, 12 (1st year)
Matthew Schaefer, 10 (4th year)
Special Recognition to JB Knight, 9, for shooting a 5 under 67 and winning the Low Medalist All-State Award.
Congratulations to our boys tennis team for a fantastic 2nd place at State!
Henry Ahrens, 7
Max Comer, 10
JP Lutkauskas, 10
Riley Sullivan, 11
Owen Wiggins, 7
Go, Cougars!!
We would like to acknowledge those students who have received special recognition for academic, spiritual leadership, or athletic accomplishments. Click on the underlined links below to read more.



May 13 | Graduation Reception
May 14 | Senior Legacy Chapel
May 15 | Graduation Ceremony
May 17 - 21 | Secondary Final Exams
May 18 | 6th Grade Moving Up Chapel
May 20 | Elem Field Day
May 21 | Prom
May 31| Spring Report Cards Released