May 19, 2021 - We Finished Together!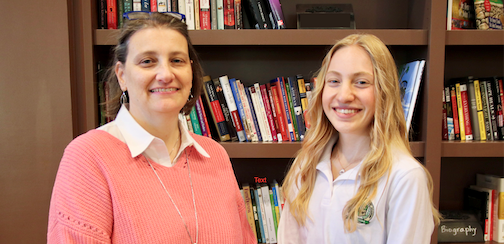 STAR Student Chooses Inspiring Teacher To Share Recognition
Senior Alexandra Swanson has been named Cornerstone's 2021 STAR Student, an honor earned through academic achievement and performance on the SAT. Swanson selected Mrs.Tracie Setzler as her STAR Teacher.
Swanson said she is inspired to be successful by teachers like Mrs. Setzler who she praises as enthusiastic and passionate and whose love of subject matter made coming to class a true joy!


Attention rising seventh grade families, we have extended the registration for the Tremont Institute trip until Tue, Jun 15. Note, there is a $350 cost per student to participate in this trip. Please click here for more information.
Click here for the registration form. Completed forms can be emailed to Mr. Cunningham.
Can't wait for Field Day (and the last day of elementary school) tomorrow, May 20! Here is what you need to know:
Follow Schedule J
Students

Apply sunscreen before arriving at school
Will get wet so bring a towel for pickup
Wear water or tennis shoes that you don't mind getting wet, no flipflops
Wear chapel shirt and modest shorts
Bring a water bottle

Drop off is 8-8:20 a.m. at the field

Parents that are not staying for Field Day, please park and walk your student to the field
Students will go to their first-period teacher waiting on the field
Students who do not have a first-period class will report to Pastor Nolan on the field

Pick up is 12 p.m. at the field

Parents will need to park and walk to the field to pick up their students

No lunch on Field Day but Kona Ice will be here
Parents are welcome to stay and watch. If you would like to volunteer to help on Field Day, please sign up below
A few volunteer spots are available. Click here to sign up to volunteer or to see what time you already signed up to help.


Congratulations to the Class of 2021 Valedictorian and Salutatorian.
Join us as we congratulate the top two students of Cornerstone's graduating class for their dedication to academic excellence and achieving valedictorian and salutatorian.
Valedictorian Rachel Shannon will be attending Lipscomb University Honors College and will double major in English and Visual Art. Rachel received the Lipscomb Trustee Scholarship.
Salutatorian Avery Paine will be attending Louisana State University and will major in Screen Arts with a minor in Screenwriting. Avery received the Louisiana State University Academic Scholarship.
Thank you, we recently received a loyalty check from Kroger for $44.66.
Keep on supporting Cornerstone by shopping AmazonSmile, Kroger and/or Publix using your loyalty account.
We would like to acknowledge those students who have received special recognition for academic, spiritual leadership, or athletic accomplishments. Click on the underlined links below to read more.

May 17 - 21 | Secondary Final Exams
May 20 | Elem Field Day
May 21 | Prom
May 31| Spring Report Cards Released
Jun 15 | 7th & 8th Grade Field Trip Registrations Due