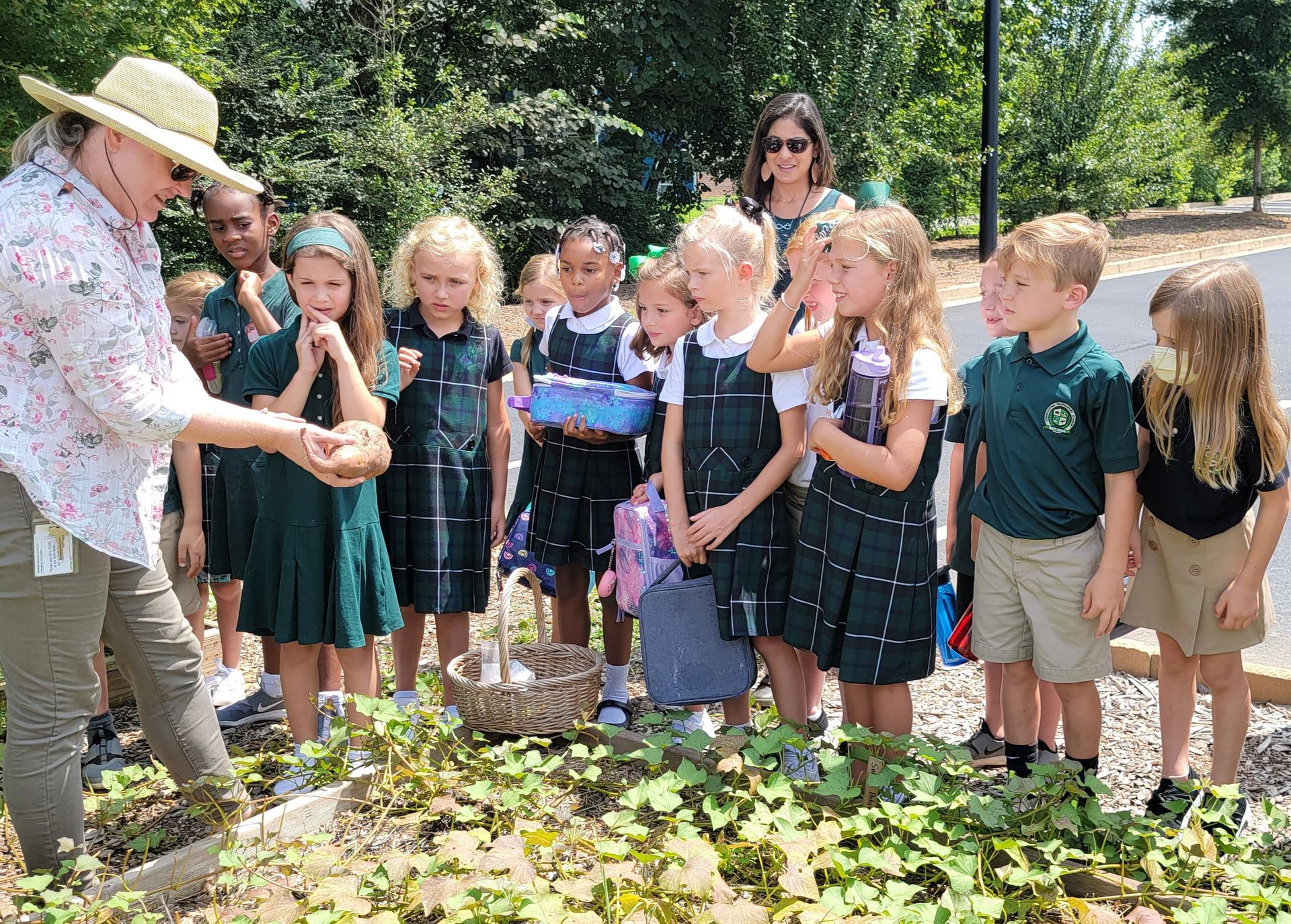 Can You Dig It?
Cornerstone Farm2Fork Will Inspire You To Find Your Green Thumb
Right now the days are hot and humid, but believe it or not, now is the perfect time to plant your fall vegetable garden. Read below as Cornerstone Farm2Fork teacher, Anne Baines, shares how the school garden is flourishing and how you, too, can enjoy a bountiful fall harvest!

Not sure if your child is full- or part-time?
Please click here to read the detailed explanation of a full-time vs. part-time student.
Note: If your child attends Cornerstone full time, he/she is considered a private school student by the state of Georgia.
My child is part-time, what do I do?
Only those students taking less than a full load are required to file an Intent to Homeschool with the state superintendent and send in a yearly attendance form.
Please refer to our Parent-Student Handbook for complete instructions of what is required of you by Georgia Homeschool law as a parent of a part-time student.
If you have both full-time and part-time students, only your part-time student will need to be registered as a homeschool student.
We wanted to remind everyone about the lunch ordering process.
Click here for video instructions on lunch ordering
It takes three "clicks" to order.
If you do not receive a confirmation number, you have NOT completed the payment process, and your child's lunch has not been ordered.
Please note that lunches can only be ordered online from the 1st to the 10th of each month for the following month. There is no "Late Order Lunch Form."
If you have any questions concerning your lunch order, please email Elizabeth Martin.

Mother Son Game Day is Thu, Sep 9, from 3:45 to 5:30 p.m. on the field. Get ready for some active field day type of games with your son!
Mothers and their elementary sons are invited to participate in a variety of field games with their sons. If you aren't available to attend with your son, a grandmother or mother-figure is welcome to attend.
Casual attire: tennis shoes, comfortable athletic wear. (You may want to pack shorts for your son to wear.)
Hot dogs, chips, cookies, and water will be served.
This is a rain or shine event.
Questions? Email Pastor Nolan.

Principal Niswonger would like to spend some time with our new secondary students and see how things are going. Refreshments will be served.
New Cornerstone students are invited to a time of fellowship on Wed, Sep 8 in the Den from 8 - 8:30 a.m.
New students, please click here to RSVP by Fri, Sep 3.
Most everyone has experienced loneliness at some point in their life. The HS girls Bible study group will be digging into the Bible to read and discuss what God says about loneliness and how to overcome and persevere. All HS girls are invited to attend on Wed, Sep 8 at 7:40 a.m. in G102 for a time of encouragement.
On September 15, 2020, Blythe Speer entered into the arms of our Savior Jesus Christ. We want to remember and honor Blythe's sweet presence among our student body and continue to encourage the hearts of our students.

We are inviting all students and staff to gather on the soccer field, in the designated area, at 8:00 a.m. on Wed, Sept 15 for a time of remembrance. The school will be providing enough pinwheels for each junior to have the opportunity to stake a pinwheel in the ground, share time together remembering Blythe, and pray for the Speer family and fellow students.
Juniors, please take advantage of the special invitation you received regarding lunch for this day.

Thank you to our awesome PTF (Parent Teacher Fellowship) for hosting the Three Week Check-In for New Families with Mrs. Daniel. We hope our new families were encouraged and received some helpful tips.
Have questions about PTF? Click here to email VP Kerri Holmes.
Thank you, we recently received a loyalty check from Amazon for $115.88! If you haven't done it already, please consider using AmazonSmile and adding Cornerstone Preparatory as your favorite charity. Amazon will donate 0.5% of eligible purchases to our school.
You can also support Cornerstone by enrolling in Kroger and/or Publix loyalty programs.


Sep 6 | Labor Day No School
Sep 9 | Elementary Mother Son Game Day
Sep 10 | Volleyball Student Night & Heartbeat Worship
Sep 16 | MS Retreat Day
Sep 16-17 | HS Retreat Days
Sep 20 | Volleyball Senior Night
Sep 23 | New Elementary Families 6-Week Celebration
Sep 27- Oct 1 | Fall Break