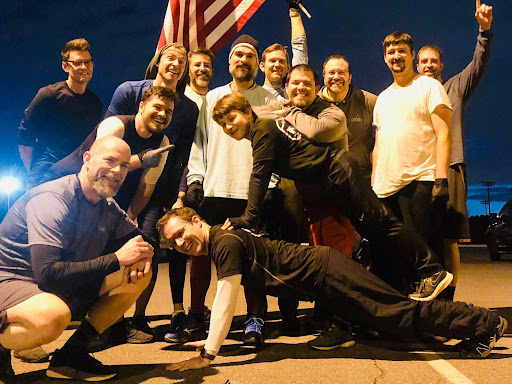 Cornerstone Dads Find Community with F3 Fitness Group
Ten years ago F3 was just a vision. Today, men from all over the country are connecting through Fitness, Fellowship, and Faith!
Several Cornerstone Men (fathers and sons) have already accepted the F3 challenge. We invite you to learn more about the blessings of camaraderie and group fitness with F3.

Now that we are well into the school year and students are able to find their classrooms, we ask that if you choose to walk your student to class you get a visitors tag from the Welcome Desk.
Please also remember to say goodbye at the classroom door, so that students can begin their morning classroom routines.
Elementary students earned a DAYL on Thu, Sep 16, by having a 100% of students complete the Cougar Citizenship Quiz on the first day of school.
Please note the following for DAYL:
Jeans must have no holes or tears
No short skirts or short shorts may be worn - only bermuda length
Shoes must be closed-toed & closed-heeled but they do not have to be uniform shoes
Girls' leggings must be topped by a mid-thigh length tunic
No pajama pants
Click here to see the complete DAYL dress guidelines.
Mother Son Game Day is tomorrow, Sep 9, from 3:45 to 5:30 p.m. on the field. Get ready for some active field day type of games with your son!
Mothers and their elementary sons are invited to participate in a variety of field games with their sons. If you aren't available to attend with your son, a grandmother or mother-figure is welcome to attend.
Casual attire: tennis shoes, comfortable athletic wear. (You may want to pack shorts for your son to wear.)
Hot dogs, chips, cookies, and water will be served.
This is a rain or shine event.
Questions? Email Pastor Nolan.

On September 15, 2020, Blythe Speer entered into the arms of our Savior Jesus Christ. We want to remember and honor Blythe's sweet presence among our student body and continue to encourage the hearts of our students.

We are inviting all students and staff to gather on the soccer field, in the designated area, at 8:00 a.m. on Wed, Sept 15 for a time of remembrance. The school will be providing enough pinwheels for each junior to have the opportunity to stake a pinwheel in the ground, share time together remembering Blythe, and pray for the Speer family and fellow students.
Juniors, please take advantage of the special invitation you received regarding lunch for this day.


Sep 9 | Elementary Mother Son Game Day
Sep 16 | MS Retreat Day
Sep 16-17 | HS Retreat Days
Sep 20 | Volleyball Senior Night
Sep 23 | New Elementary Families 6-Week Celebration
Sep 27- Oct 1 | Fall Break
Oct 8 | Optional HS Parent IMPACT Fair
Oct 8 | Heartbeat Worship & Fields of Faith
Oct 13 | PSAT Testing Grades 9-11
Oct 14 | PTF Meeting
Oct 15 | Fall Family Festival
Oct 29-30 | Elementary Family Camp Out